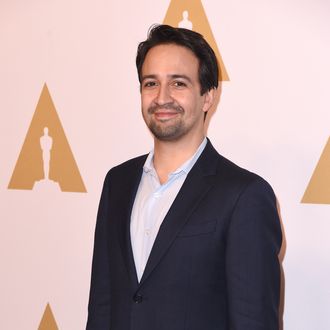 Photo: Kevin Winter/Getty Images
Just days ahead of the Oscars, Lin-Manuel Miranda who is nominated for "How Far I'll Go," his song for Disney's Moana, reminisced about growing up watching the awards show with his family, in a guest column for The Hollywood Reporter. After naming a "compendium of Oscar moments" in his head including when Kim Basinger pointed out that Do the Right Thing was wrongly omitted from a nomination in 1990, Miranda anticipated the Oscars this year would be just as political as your social-media feeds.
"It's a political time, so I imagine the Oscars will look exactly like your Twitter or Facebook feed. Why should we ignore for three hours what we're talking about 24 hours a day?" he wrote.

The rest of the column steered clear of politics, though Miranda did say that he wouldn't be hosting anytime soon.
"Hosting the Oscars is not a thing I would ever want to do. I am a huge Seth MacFarlane fan, but you could tell how uncomfortable everyone in the room was with his 'We Saw Your Boobs' number. You always have to do this dance as a host: You're playing to a billion people at home, and you're playing to anxious contestants in a room, and that's an insanely hard thing to divide. It's the most thankless task in the world. I have a pretty healthy ego, but it does not extend in that direction. I'd much rather be the guy writing the opening tune than having to deliver it."