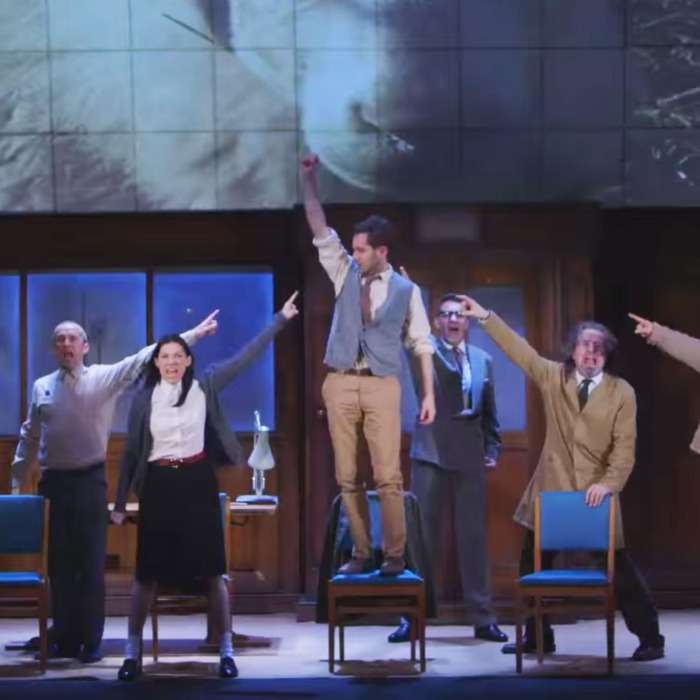 Big Brother is arriving from overseas. In an eerily resonant start to the 2017–2018 season, a stage adaptation of George Orwell's chilling dystopian novel 1984 will travel from the London stage to Broadway this June — that is, from the land of Brexit to the land of Trump.
Created by Robert Icke and Duncan Macmillan, this new adaptation of 1984 was originally produced in the U.K. by the Headlong, Nottingham Playhouse, and Almeida Theatre. Under producers Sonia Friedman and Scott Rudin, it will arrive in New York with its London creative team intact, adding a new American cast of party members and proles. The limited engagement will open at the Hudson Theatre on Thursday, June 22.
In its four U.K. runs at a series of theaters, 1984 enjoyed warm reviews that praised its immersive sets and multimedia elements. In this dark and retro future, cameras are everywhere, as are Newspeak and propaganda. The Broadway production will also ride a wave of renewed interest in the 1949 novel, sales of which spiked on Amazon and elsewhere after Trump adviser Kellyanne Conway's recent defense of "alternative facts." (The star of the 1984 film adaptation of 1984, John Hurt, died just last week.) Critics have brought up Orwell's dystopia as a way of understanding an increasingly nationalistic, populist, and repressive America, where the president wishes, and has started to demand, that the press act more like the Ministry of Truth (and perhaps provokes a war with Oceania). As the theater, too, has become a subject of the new president's ire, it's a neat irony that, with 1984, Broadway will be providing a different kind of propaganda, this time for resistance.