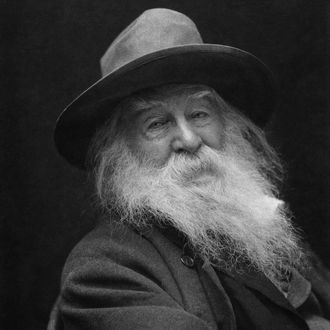 Walt Whitman
Photo: ullstein bild/Getty Images
Walt Whitman might be best known for his genre-defying poetic masterpiece Leaves of Grass, but the 19th-century writer was far from a one trick pony. Last year, graduate student Zachary Turpin discovered a long lost Dickensian serialized novel written by Whitman that was last seen in print 165 years ago, reports the New York Times. The 36,000-word story Life and Adventures of Jack Engle, is a first-person narrative following an orphan on his journey through New York, which included a full cast of colorful, diabolical money-and-power-hungry characters, as well as "virtuous Quakers" and a "sultry Spanish dancer." Researchers believe that the work was never reprinted after it was published anonymously in the New York–area newspaper The Sunday Dispatch.
Turpin was only able to find the novel by entering character names and a few details referenced in Whitman's notebooks in a digital database where he found an advertisement that ran in the Times for the Jack Engle story. From there, he was able to find the only known original copy, which had not yet been digitized, in the Library of Congress.
Though the 1852 book is not a particularly good example of the author's oeuvre, or of the "city mystery novels" that were popular during that time, Whitman experts point to clear connections to Leaves of Grass, which was published three years later. At times the drama of the novel's mustache-twirling super-rich versus the kind, hardworking everyman gives way to the sort of wandering explorations on nature and the human experience that made Whitman a hero of the American literary canon. You can see for yourself by reading it. Life and Adventures of Jack Engle is available, for the first time ever, now as a book and online.