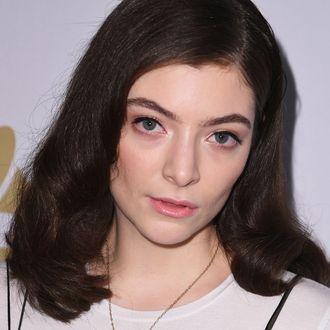 Lorde SZN is approaching.
Photo: Kevork Djansezian/Getty Images
All surprised out after Sunday night's Oscars twist? Life's about to throw us another curveball: Start practicing your shocked face because Lorde's return may commence as early as this week. Her attentive fans in New Zealand noticed a commerical that cropped up last night, simultaneously, on all the major national networks featuring Lorde in the backseat of a car snacking on fast food while what appears to be a new upbeat (!) piano-driven tune of hers plays for all of 15 seconds. The ad ends by teasing two dates: March 2 in New York City and March 3 in New Zealand, meaning something Lorde-related is going down this Thursday/Friday and we should all be on high alert. (The last update on her new album from November was that it's "coming soon"; reports seemed to show a new single out on March 7.) She's gotta have something new to dance like she's having an exorcism to when she hits the SNL stage on March 11, and this might just be it.
Update: Lorde has also tweeted out a website that plays the ad: