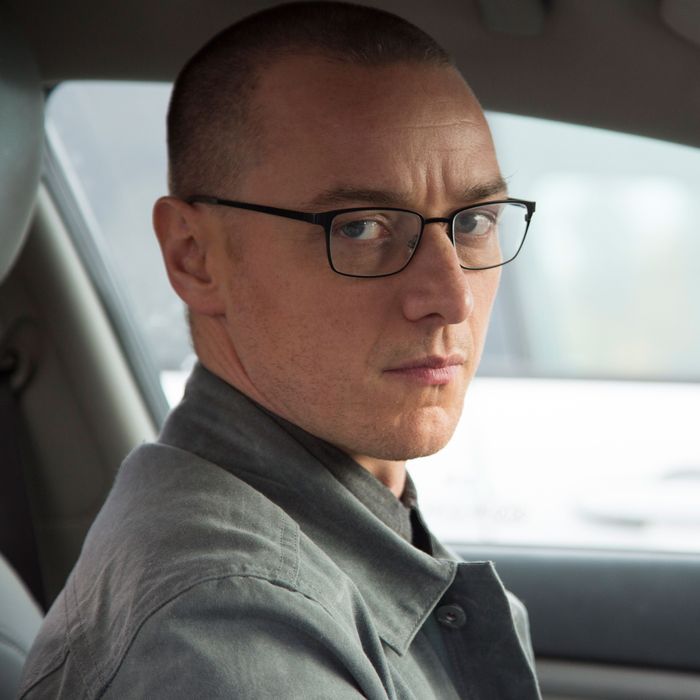 James McAvoy in Split.
Photo: John Baer/Universal Studios
The Big Story:
Super Bowl Sunday tends to be a real downer as far as the box office goes: Assuming that most potential Sunday business will be cannibalized by football, studios tend to hold their bigger releases for the next week, a la Deadpool last year and Fifty Shades Darker, The Lego Batman Movie, and John Wick: Chapter Two this year. But even by those low standards, this weekend was a wash, with M. Night Shyamalan's Split topping the box-office rankings for the third straight frame.
Adding another $15 million or so, Split's total now stands at just under $100 million domestically, meaning it should be M. Night's first nine-digit performer since The Last Airbender in 2010, and only his second since 2004, when The Village made $114 million. And more generally, it should have no trouble topping last year's best-performing horror movie, The Conjuring 2, as well as those of 2015 and 2014, making it the highest-grossing scarer since The Conjuring in 2013.
It certainly had no trouble with this weekend's competition in the genre: Rings, the miserably reviewed third feature in the franchise, opened to $13 million. While that number could've been worse, it further reveals the success of Split, which opened to the tune of $40 million on just a $9 million budget, versus Rings' $13 million on a $25 million budget. Let's hope you like Shyamalan, because you're going to be seeing a lot more of him.
What Else Happened?
Best Picture nominees Hidden Figures and La La Land continue to clean up, with their domestic grosses rising to $118 million and $119 million, respectively, and La La Land can add another $150 million from overseas, giving it a mighty $268 million worldwide on a minuscule $30 million budget. By my calculations, the only films released in 2016 to earn such a high multiplier on their budgets are The Secret Life of Pets ($875 million versus $75 million) and Deadpool ($783 million versus $58 million). If Whiplash made Damien Chazelle a top-rank artistic director, La La Land makes him a commercial one as well.
Meanwhile, this weekend's other new release, The Space Between Us, had no such luck, managing just under $4 million. A Dog's Purpose added another $11 million after the revelation that a video showing alleged animal abuse on set was misleadingly edited. For the Weinstein Company, Lion received a solid Best Picture-nominee bounce, adding 830 theaters and $4 million, while The Founder and Gold didn't do much to improve their lots, each producing another $1.5 million in their third and second weekends, respectively. And Robert De Niro's new movie, The Comedian, took only $1.1 million from 848 theaters, a not-so-funny $1,323 per-theater average.