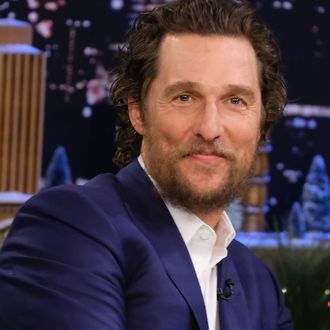 Matthew McConaughey.
Photo: Theo Wargo/Getty Images for NBC
While fellow respected actors were preparing their politically charged speeches for last weekend's SAG Awards, Matthew McConaughey was over the pond explaining why coastal elites should be making peace with President Donald Trump. During an interview on BBC One, the interviewer, Andrew Marr, compared the story of McConaughey's latest film Gold, which places a two-bit prospector at odds with Wall Street, to the current political divisiveness in America. Marr asked the actor if Hollywood should ease up on Trump. "Well, they don't have a choice now," McConaughey said. "He's our president. And it's very dynamic and as divisive of an inauguration and time as we've had. At the same time, it's time for us to embrace and shake hands with this fact and be constructive with him over the next four years."
As People points out, it's not certain whether McConaughey did this interview, which aired on Sunday in the UK, before or after the ban on refugees and travelers from seven predominantly Muslim nations went into effect. McConaughey's wife Camila Alves is an immigrant from Brazil who moved here when she was 15.

Update 10 a.m.: The video of this interview has been removed.