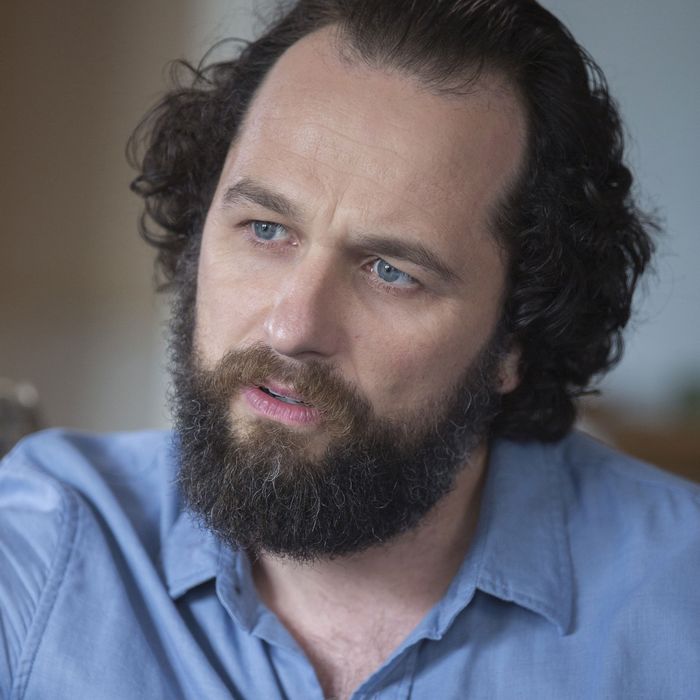 Matthew Rhys as Chuck Palmer.
Photo: HBO
Spoilers ahead for Sunday night's episode of Girls.

Matthew Rhys has had his fair share of graphic sex scenes on The Americans, but what his character does on Sunday's episode of Girls belongs in a category of its own. It's not so much what the actor or his character reveals that's so "degrading, disturbing, and dark," as Rhys put it when Vulture ran into him at the premiere for season five of The Americans this weekend. "It's about where the pendulum swings."
Rhys agreed to play an acclaimed writer named Chuck Palmer, who's accused of sexual misconduct by several college students and ultimately whips out his penis in front of Hannah Horvath (Lena Dunham), because he was interested in the audience's changing perception of the character. "He's up to a flying start with the shoes," Rhys said, referring to the moment when Chuck asks Hannah to take off her shoes, and then to make sure her shoes don't touch his suede boots. Over the course of their episode-length interaction, Rhys said, "He's an asshole, then he's not an asshole, then he's an intelligent asshole, then no, he's not an asshole, then no, he's very much an asshole."
Up until the moment Chuck reveals his penis to Hannah, Rhys explained, "You're thinking, Is he going to redeem himself? And then you realize, no. That's why I joined, because I'm interested in where the facts lie, and the animal aspect to these flawed human beings. That's what I liked about it."
Behind the scenes, there was some debate as to whether Chuck planned all along to expose himself and put Hannah in the same kind of situation as his accusers. In HBO's "Inside the Episode" clip, showrunner Jenni Konner said that she thought it was a spontaneous decision on Chuck's part. But Rhys thinks otherwise. "I think he did plan to do that," he said. "I think it was done deliberately, sadly."
Although Rhys had the option to help choose his fake penis, he decided not to offer any suggestions. "They kindly offered, and I said, 'No, thank you. You choose,'" he explained. It's a good thing he wasn't too picky about the size and shape, since the production had a hard time finding just the right prop. Who knew that semi-erect fake penises are in such short supply? A medical company ended up providing a few options. When Rhys saw the one that Dunham, Konner, and director Richard Shepard picked, he was satisfied with the choice. "I said, 'That's fine, thank you. That's the one I'll use.' It wasn't the one used by Mark Wahlberg in Boogie Nights," he laughed. "No. Clearly not. That one is far larger!"
During a day of rehearsal, Rhys and Shepard worked out the blocking of the scene. "Richard was very specific about it, actually," Rhys said. "He said, 'This is what I want you to do. You turn, it comes out. Boom, that's it.' Very specific, which I love, so I didn't have to come up with anything." Well, anything except for Chuck's wolfish grin, which wasn't scripted, but tells the audience everything. "And there you have it!" Rhys said with a smile.