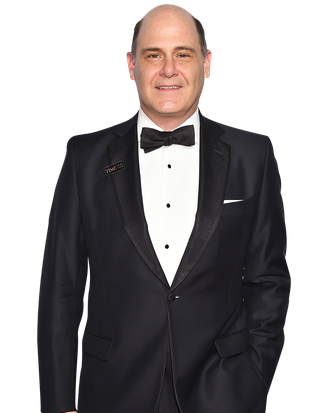 On Thursday, the Taschen bookstore in Beverly Hills hosted a Mad Men reunion. The cast — including Jon Hamm, January Jones, Christina Hendricks, Kiernan Shipka, Jessica Paré, Kevin Rahm, and Ben Feldman — along with writers and designers came out to fete the show's creator, Matthew Weiner, for the launch of the commemorative, two-volume Mad Men book set. As Hamm joked, "Both of my wives are here, so it's a little awkward for me."
Conceived during a party at publisher Benedikt Taschen's house after season two, the books document Mad Men in photos, notes from the writers room, and interviews with Weiner, Hamm, and costume designer Janie Bryant. Vulture caught up with Weiner during the party to discuss his early career, why he wrote a novel, and if he'll ever get tired of talking about Mad Men. Below is an edited transcript of the conversation, which began shortly after Shipka stopped by to chat.
I have such a girl crush on Kiernan.
She's totally okay. She has good parents. I have four sons and no daughters, and I have a sort of paternal pride in making sure that she does okay, makes good choices. Meanwhile, I have an 18-year-old son. I found out that they had a party at my house.
Kiernan did?
No, my son had it. [Weiner's son, Marten, played Glen Bishop on Mad Men.] Kiernan was at it. The police shut it down, and I didn't know about it.
Where were you?
We were out town. It was a Risky Business thing. Oh, he got in trouble, believe me, but she told me she was there. I was like, great, I was hoping nobody knew about that. [Laughs.]
I thought the Emmys would be the last conversation about Mad Men. We actually talked about this book that night.
We did, and I remember you said it was porn. I totally remember that. I absolutely remember that.
I did!
Was it true?
This party does look a little bacchanalian. It's a gorgeous book, too. There are so many people I could give it to …
Well, do it. Actually considering how gigantic it is, it's a pretty good deal. I was kind of shocked. It's cheaper than the DVDs, I think.
So is this the last conversation about Mad Men?
I hope there's never a last Mad Men thing. I had someone come up to me the other day, and they're like, "I want to ask you a question about Mad Men, and I'm sure you're tired of talking about it. If you don't want to talk about it, that's fine. We just won't talk about it." I said, "I will never be tired of talking about it." How could I not acknowledge that this is a huge chunk of my life? I miss all the people. That's one of the great things. I miss all the people that I did it with.
It sounds like most of them are here tonight.
I love that, but also it is great to have this record. The funny thing about the book is it is not the same as the show, and I don't know how to make a book. So Benedikt Taschen made the book. Josh Baker was the designer on it, and he knows Mad Men better than I do. They really decided what represented the show. I had the right to say yes and no to things, but for the most part I loved it. I was like, let them do whatever they want.
Is there anything left unsaid or untouched about Mad Men?
Honestly, despite all the conversation around it, I said everything I had to say in the show. It's fun for me to see it distilled like this, for people who are interested in creative process. What I really love is that you can see the hundreds of people's lives that are in the show. You can really see it. And so you have one volume that's kind of a different experience than watching the show. It's slowed down. It's sort of fetishized. You could not even know the show and enjoy flipping through the book just for the aesthetics of it. And then there's this other book, which, there's nothing like it anywhere. I mean, my notes are in there from 1992.
What sort of notes?
Notes about how I have this idea, and how badly my career is going, and how I don't want to disappoint my wife, and also the entire story of the entire series.
Was there ever less money in your bank account than what this book set costs?
I will tell you something that nobody knows. [Flips through one of the books.] I'll show you one thing. It might be in the beginning of that book. Here, see that? [Points to notes in the book.] Everyone asks me what that is. There's the date. These are my hours at my job. That was me figuring out how much money I had made for the month. It was actually more than a month.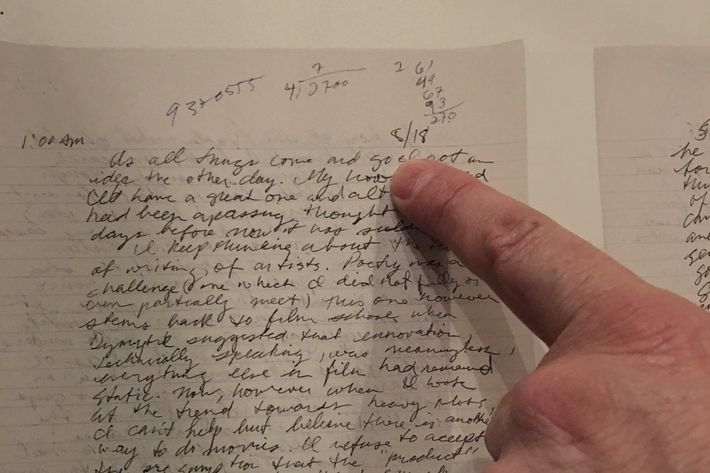 Two-hundred-and-seventy hours?
Two-hundred-and-seventy hours was for the month.
This was at Becker?
No, no. I didn't have a job at all. This is 1992. I had just graduated from film school. I was out of work for five years after film school. On Sunday nights, I would go to Norm's Diner on La Cienega and I would write. I would go to Book Soup and read in the store because I had no money to buy books. For that entire month, I worked 270 hours for the whole job. I was figuring out my salary everywhere, because my wife was supporting us.
Would you have ever guessed it'd turn into this?
No, no. The whole thing is incredible. Just to get a chance to express yourself and to be heard, I can't believe that. I met amazing people and I learned a ton.
After Mad Men, did you have a sophomore slump? When it was over, you said you were going to get up the next morning and write.
I did, but I didn't. I actually took time off. I stopped working until the show went off the air, and then I found that I really couldn't do anything and didn't want to do anything. Then I went to an artist retreat, a residency called Yaddo.
Oh, you did Yaddo?
Yeah. I started writing there by myself — no staff, no writer's assistants — and it was while I was there that I started writing what became my novel.
How long were you there?
I don't know, like close to three weeks. It was a full year before I really wrote anything. I stopped taking notes. You know, I take notes all the time on these little pieces of paper. I didn't do anything, and I thought, Well, I'll clear the pipes. I'll figure it out. At a certain point, I was like, Will I ever write again? I think that's how I got to Yaddo. I said that to the right person.
So you didn't have to apply like the rest of us?
I did have to fill out the form, but A.M. Homes is on the board there. She's like, "You will write again because you're going to Yaddo." And I was like, "I can't do it. I can't be away from home. They need me here." My wife's like, "We need you for what, to keep your bathrobe warm?"