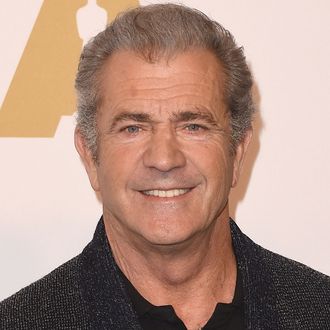 The ever-controversial Mel.
Photo: Kevin Winter/Getty Images
The past year has been an upward swing for Mel Gibson, but a downward tumble for Warner Bros.' DC Films brand, and now the two appear to have met somewhere in the middle. According to The Hollywood Reporter, there are extremely early talks between the embattled Gibson and the troubled studio about having him direct the sequel to last year's critically reviled but profitable Suicide Squad (which is not to be confused with the Suicide Squad spinoff co-starring Harley Quinn, which is being directed by the original's helmer, David Ayer).
There aren't any details beyond that, but even this tiny leak certainly plays into Gibson's much-criticized post–Hacksaw Ridge comeback narrative. If he were to score the gig, he will have gone from a reviled persona non grata caught on tape spouting horrific racist, anti-Semitic, and misogynistic remarks to having the coveted Hollywood twofer of Oscar-nominated legitimacy and a lucrative superhero-franchise job. What makes this rumor all the more remarkable is the fact that Gibson had a terrible relationship with Warner just a few years ago, when he was dropped from 2011's The Hangover: Part II due to distaste for him within the cast and studio. If he can conquer Warner Bros. and DC, there's no telling how high Mel's rise can go.