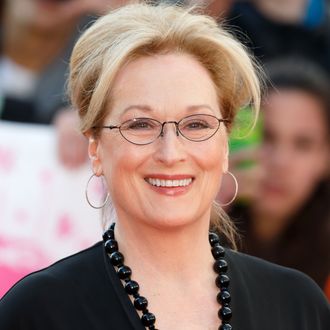 Photo: Max Mumby/Indigo/Getty Images
Meryl Streep is out for blood. Days after Chanel creative director Karl Lagerfeld claimed Streep had backed out of wearing a Chanel dress at this year's Oscars ceremony due to not being paid to wear it ("A genius actress, but cheapness also, no?" Lagerfeld opined), Streep is firing back by accusing the designer of lying and defaming her. While Streep's representatives previously released a statement denying Lagerfeld's claims and citing her personal ethics, the following statement comes straight from the actress herself. "In reference to Mr. Lagerfeld's 'statement,' there is no 'controversy': Karl Lagerfeld, a prominent designer, defamed me, my stylist, and the illustrious designer whose dress I chose to wear, in an important industry publication," Streep said. "That publication printed this defamation, unchecked. Subsequently, the story was picked up globally, and continues, globally, to overwhelm my appearance at the Oscars, on the occasion of my record breaking 20th nomination, and to eclipse this honor in the eyes of the media, my colleagues and the audience."
And don't expect this to be the last time Streep — or even Lagerfeld — talks about the matter. "I do not take this lightly, and Mr. Lagerfeld's generic 'statement' of regret for this 'controversy' was not an apology," she continued. "He lied, they printed the lie, and I am still waiting." As Streep mentioned, she will be celebrating her 20th Oscar nomination (!) this evening for her work in the comedy-drama Florence Foster Jenkins.

Following Streep's statement issued on Saturday evening, Lagerfeld released a new statement of his own on Sunday to the Cut, formally apologizing to the actress. "Chanel engaged in conversations with Ms. Streep's stylist, on her request, to design a dress for her to wear to the Academy Awards," Lagerfeld explained. "After an informal conversation, I misunderstood that Ms. Streep may have chosen another designer due to remuneration, which Ms. Streep's team has confirmed is not the case. I regret this controversy and wish Ms. Streep well with her 20th Academy Award nomination."

This post has been updated throughout.