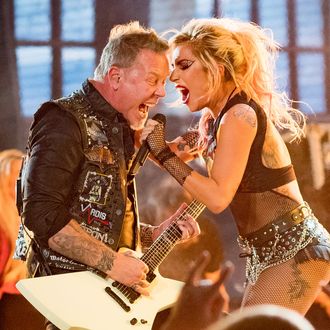 Photo: Christopher Polk/Getty Images for NARAS
After Sunday night, hard rockers Metallica have every right to harbor a grudge against the Grammys if they wanted to. In a spirited duet with the newly tattooed Lady Gaga for the band's new single "Moth Into Flame," vocalist James Hetfield was plagued with severe audio problems for about half of the performance, which required him to share a microphone with Gaga until the issue was appropriately fixed. At the song's completion, Hetfield made his agitation completely evident by knocking over his microphone and throwing his guitar at a stag-hand. The band's drummer, Lars Ulrich, is a bit more cheery about the whole situation under the circumstances, though.

"There was a slight technical snafu, but that's not really something you can do much about," Ulrich told Rolling Stone in an interview. "You just learn to live with that side of it. It happened to Adele last year; I guess this year it was our turn." Ulrich was also keen to praise the "quintessential perfect fifth member of this band," Gaga, for her involvement in the performance. "Her voice, her attitude, her outlook on everything is so awesome," he said. "We already started fast-forwarding to the next chapter when we can do more of this." Double album, here we come?!