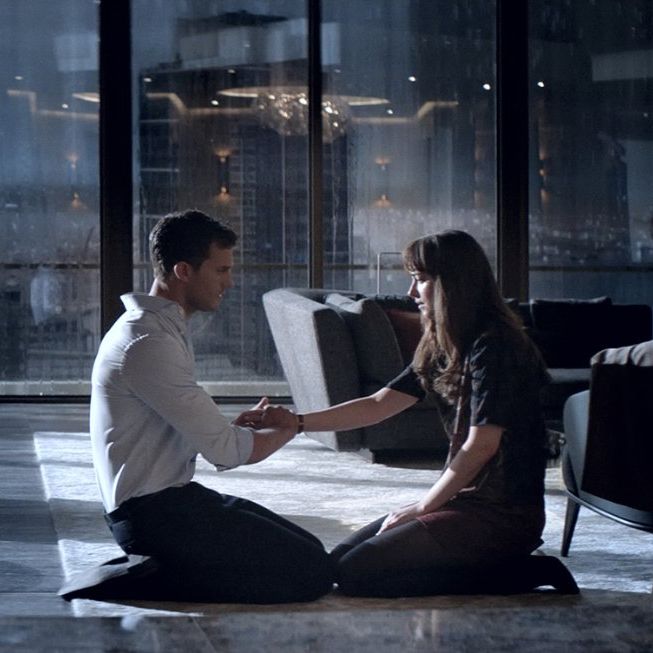 Jamie Dornan and Dakota Johnson in Fifty Shades Darker.
Photo: Universal Studios
The makers of Fifty Shades Darker, the sequel to Fifty Shades of Grey, have worked admirably to ensure that the film doesn't eroticize violence against women. That makes things a tad tricky in regards to the sexual proclivities of its male protagonist, though. The film's rare bits of S&M involving bookish hottie Anastasia Steele (Dakota Johnson) and muscular billionaire Christian Grey (Jamie Dornan) look only marginally more naughty than smacking in a kindergarten sandbox. And Dornan looks so small and cute under his three-day growth of beard that you wonder if he still has the junior versions of his favorite implements, e.g. Click n' Play Suspension Cuffs or My First Spreader Bar.
People are calling Fifty Shades Darker the worst movie ever made, but it's really not that terrible. It does, however, misrepresent itself, which is true of most mainstream American films about sex. The movie's real subject is wealth — and how much a woman is willing to accept being owned in return for beautiful clothes and cars and planes and houses. It could be The Melania Trump Story if the male were a Cheeto-colored lunatic whose businesses often go under and the woman couldn't utter a single coherent sentence in English not written by someone else. Stories of rich men and poor women are staples of our culture, and the S&M milieu of Fifty Shades actually demystifies the subject — it makes the subtext too explicit. Not much is left to the imagination with lines like, "I know that I asked you to show me how far it could go, but you were getting off on the pain you inflicted."
You'll recall that in Fifty Shades of Grey, Anastasia and Christian's relationship ended when she asked him to show her how far it could go but he was getting off on the pain he inflicted. Now she's firm in her refusal to let him control everything. For example, when Christian orders two steaks at a fancy restaurant, she interrupts to tell the waiter she'll have a quinoa salad instead. I personally don't see that as much of a victory for feminism, but then I married an avowed carnivore. Director James Foley once made the film of Glengarry Glen Ross, and he shows some skill in framing every conversation as a negotiation for power. That's not hard, of course, in scenes like the one where Anastasia begins their reconciliation discussion by announcing, "I'd like to negotiate terms."
Rumor had it that Johnson and Dornan couldn't warm up to each other if they were cremated together, but they do a fair job here of looking semi-comfortable. It helps that in Fifty Shades Darker the stakes aren't quite as high. Christian is still dominant, but he professes a desire to move away from master-slave relationships. He owns up to having been abused as a child. His biological mother, a crack addict, died when he was young, and the cigarette burns alongside his swollen pecs testify to his hard life before Marcia Gay Harden adopted and gave him a taste of wealth. Will Anastasia ever be allowed to touch those pecs? Will Christian ever learn to submit?
Johnson is raw in a non-actressy way, which suggests she either has a gift for being "private in public" or that she's not much of an actress. I'm going to go with the former conclusion — I like her. And I was pleased that Anastasia, who rises to an editor's job at an independent Seattle press (Seattle Independent Press), wants to promote new voices, though the novelist E.L. James was probably thinking of fanfic writers — I doubt anyone who'd name her heroine Anastasia Steele has read much outside the romance genre. Dornan, meanwhile, is better than last time, mostly because he doesn't have to try to look sexily foreboding. Ana and Chris are more equal here, yanking off each other's clothes to the sexy-sexy music.
Because Christian is less of an antagonist, the movie has three new threats to Anastasia's well-being. Bella Heathcote plays Christian's pitiful ex-lover, who wanders wraithlike through the Seattle rain showing off the bloodied cloth around her wrist. Eric Johnson is Anastasia's leering boss, Jack, whose big scene is the closest either Fifty Shades movie has come to generating sexual tension — although here it's of the rapey variety. Kim Basinger turns up as the "Mrs. Robinson" who introduced Christian to the joys of sadomasochism ("All I did was lead him to the truth!") and now taunts Anastasia for trying to make him too healthy. Basinger does not rise above the material.
Although I'm sure that Foley and screenwriter Niall Leonard were hugely compensated for their labors, I feel sad for them in one respect. Because of E.L. James's pretensions and Hollywood's timidity about sex, they weren't allowed — even if they'd wanted to — to make a lurid, trashy, fun S&M romantic melodrama. Instead, they got locked into the story of a woman who gives her man better values and a man who gives his woman better clothes, both of them suffering so much for a little bit of nookie.