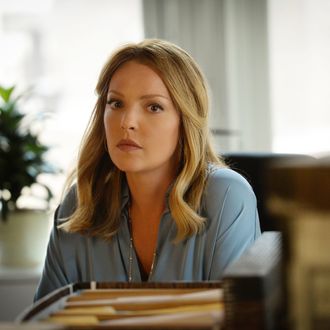 Katherine Heigl as Sadie Ellis in Doubt.
Photo: Neil Jacobs/CBS
After airing just two episodes in its premiere season, it looks like CBS's legal drama Doubt is no more. The long-gestating series, starring Katherine Heigl, has been pulled from the schedule and its timeslot will be taken over the next month or so by a rerun of Bull — a Criminal Minds spinoff — and Survivor's extended premiere, respectively. Deadline is calling the schedule shift a cancellation, stating that "per tradition," CBS hasn't used the c-word just yet, but that is in fact what this means. However, it is still possible that the show, which debuted to low ratings (particularly for a ratings behemoth like CBS), may return at a later date. Notably, Doubt is the first prime-time drama to feature a transgender main character played by a transgender actress — Orange Is the New Black's Laverne Cox. Time will tell if we'll get to see this TV-history-making moment play out any further.