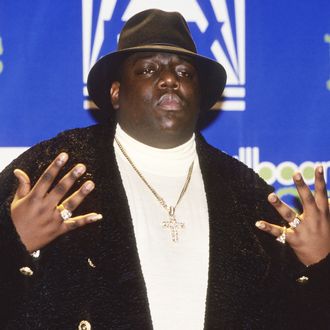 He'll once again see life after death.
Photo: L. Busacca/WireImage/Getty Images
As we near the 20th anniversary of Biggie's death, a new documentary about the short but monumental life of the rapper is now in the works. His mother, Voletta Wallace, has authorized Notorious B.I.G.: One More Chance, which will be directed by Emmett and Brendan Malloy (who've previously made docs on the White Stripes and Jack Johnson). With Voletta's blessing, the doc, like the 2009 Biggie biopic Notorious, will have the rights to feature his music. The doc also joins USA's upcoming true-crime series on the murders of Biggie and Tupac — there's even a Tupac biopic on the way — and a TBS comedy inspired by Biggie's lyrics in the pipeline, because our cultural appetite will always be big enough for more Biggie.