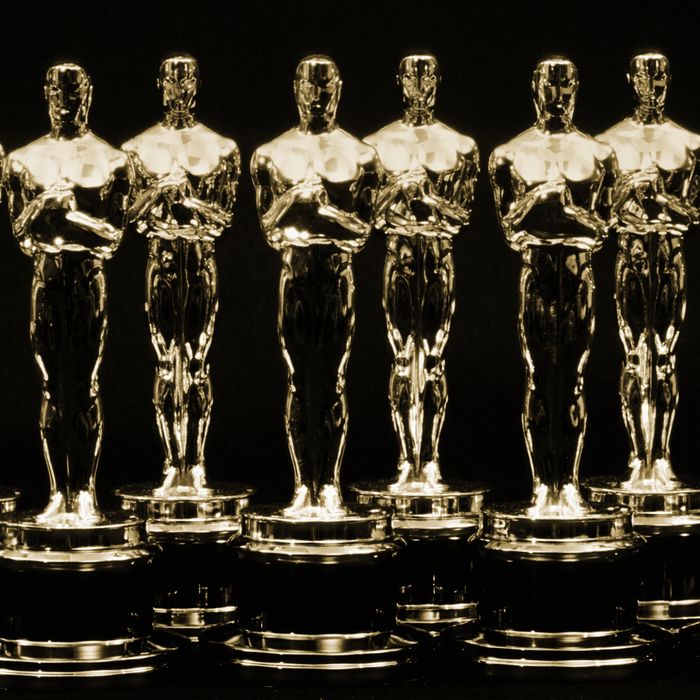 Photo: Santi Visalli/Getty Images
There are still a few nagging questions as we head into Sunday's Oscar telecast, but the most pressing one is "How big will La La Land be?" Damien Chazelle's star-crossed musical tied the all-time record for Academy Award nominations by mustering 14, and it would need to win 12 to become the biggest Oscar victor ever. (With 11, it would tie Titanic, Ben-Hur, and The Lord of the Rings: The Return of the King.) While that record won't be a cakewalk for La La Land — there are several tech categories where this modern musical would be breaking precedent by winning — I suspect it's doable. Below, you can take a look at my bullish predictions, or listen as I discuss each category on this week's big new episode of The Awards Show Show, where my co-host John Horn and MTV's chief film critic Amy Nicholson debate who will win.

Best Picture
Arrival
Fences
Hacksaw Ridge
Hell or High Water
Hidden Figures
La La Land
Lion
Manchester by the Sea
Moonlight
This race, in its late going, is all about La La Land and Moonlight. Back in the nominations phase, I heard plenty of Academy members throwing votes to Manchester by the Sea, too, but we've now narrowed things down to two films that are grabbing the lion's share of votes. Still, though Moonlight has gotten a lot of love, this is La La Land's to lose. Don't let the Film Twitter backlash and all those contrarian hot takes fool you: For most Academy members, La La Land is the least polarizing of the Best Picture nominees, and it will prove to be the consensus pick.

Best Director
Damien Chazelle, La La Land
Barry Jenkins, Moonlight
Kenneth Lonergan, Manchester by the Sea
Denis Villeneuve, Arrival
Mel Gibson, Hacksaw Ridge
In recent years, the Academy has proved more amenable to a split where one film wins Best Picture and another wins Best Director, so conceivably, Barry Jenkins has a shot to prevail here even if La La Land is a lock for Best Picture. Still, two things work against Jenkins. That split tends to favor directors who've made the most technically demanding film, and voters will deem that to be La La Land, which made a strong showing in the tech categories. Also, the fact that Jenkins is the heavy favorite to win the Best Adapted Screenplay Oscar clears the decks here for voters to reward Damien Chazelle.

Best Actor
Casey Affleck, Manchester by the Sea
Denzel Washington, Fences
Ryan Gosling, La La Land
Andrew Garfield, Hacksaw Ridge
Viggo Mortensen, Captain Fantastic
Casey Affleck won nearly every critics' laurel this season, but he lost the Screen Actors Guild trophy to Denzel Washington, and that's significant. Since 2003, every SAG winner in this category has gone on to take the Oscar. This will be a nail-biter down to to the last second since Washington's momentum has come so late in the game, but I'd give him the slim edge over Affleck.

Best Actress
Emma Stone, La La Land
Natalie Portman, Jackie
Meryl Streep, Florence Foster Jenkins
Isabelle Huppert, Elle
Ruth Negga, Loving
You know it's locked up for Emma Stone when people start wondering whether Isabelle Huppert can beat her. Every time a young ingenue leads the field, bored pundits posit that a veteran actress can take her down, but Annette Bening didn't defeat Natalie Portman in 2010, Emmanuelle Riva couldn't beat Jennifer Lawrence in 2012, and last year, Charlotte Rampling had no luck against Brie Larson. Emma will take it, and you can take that to the bank.

Best Supporting Actor
Mahershala Ali, Moonlight
Jeff Bridges, Hell or High Water
Dev Patel, Lion
Lucas Hedges, Manchester by the Sea
Michael Shannon, Nocturnal Animals
I think this will go to Mahershala Ali, though he's vulnerable to an upset. Oscar tends to go for flash and a big finish, but Ali does subtle work and exits offscreen after Moonlight's first act. Jeff Bridges fits the more conventional profile of a winner here — it's a showy performance with a gangbusters final scene — but he's won before. Dev Patel took the BAFTA in this category, but I'm not sure that will be enough. In the end, while Ali is highly deserving, he could prevail in part due to the lack of a strong rival.

Best Supporting Actress
Viola Davis, Fences
Michelle Williams, Manchester by the Sea
Naomie Harris, Moonlight
Nicole Kidman, Lion
Octavia Spencer, Hidden Figures
It's Viola Davis, duh. The real question will be, could she have beaten Emma Stone if she'd been positioned as a lead? I'm tempted to say yes, but Stone should thank her lucky stars she didn't have to deal with the optics of snatching this long-overdue trophy from Davis for some of her very best work.

Best Adapted Screenplay
Moonlight
Arrival
Fences
Lion
Hidden Figures
In a funny twist, both Moonlight and Arrival won the Writers Guild trophies this year because Moonlight was competing as an original screenplay. (Since Moonlight was adapted from a play that was never actually produced, voting bodies have come to different determinations on whether it should be considered original or adapted.) Put them head to head, though, and I think Barry Jenkins will win for Moonlight.

Best Original Screenplay
Manchester by the Sea
La La Land
Hell or High Water
The Lobster
20th Century Women
Will the third time be the charm for Kenneth Lonergan, who's nominated for writing Manchester by the Sea and has competed before for scripting You Can Count on Me and Gangs of New York? There's something about Manchester that just feels like a screenplay winner — it's so dialogue-driven and the direction is unfussy — but when it comes to originality, which this category is meant to reward, La La Land represents a bigger swing. Expect a close race.

Best Foreign Language Film
Toni Erdmann
The Salesman
Land of Mine
Tanna
A Man Called Ove
Sorry, Toni Erdmann. This is likely to be the most politically charged Oscar telecast in ages, and voters won't miss the chance to send a message to President Trump by voting for Iran's The Salesman, since director Asghar Farhadi has opted out of attending due to Trump's travel ban.

Best Documentary Feature
O.J.: Made in America
13th
Fire at Sea
I Am Not Your Negro
Life Animated
This is a majorly stacked category, but O.J.: Made in America has earned the most buzz and, by dint of its size alone, feels like a titanic achievement.

Best Animated Feature
Zootopia
Kubo and the Two Strings
The Red Turtle
My Life As a Zucchini
Moana
Disney's smart and subversive Zootopia is the likeliest to win, but don't count out Academy members who'd rather throw their votes to artier fare like The Red Turtle and Kubo and the Two Strings.

Best Film Editing
La La Land
Moonlight
Arrival
Hacksaw Ridge
Hell or High Water
Action and suspense tend to dominate this category, which would favor a film like Hacksaw Ridge or Arrival. In the end, though, I'm not sure either is strong enough to swing votes from the neatly edited musical numbers of La La Land.

Best Original Song
"City of Stars," La La Land
"Audition (The Fools Who Dream)," La La Land
"How Far I'll Go," Moana
"Can't Stop the Feeling," Trolls
"The Empty Chair," Jim: The James Foley Story
The only knock against La La Land in this category is that it's competing against itself (which means that even though the film got 14 nominations, it can only win 13 Oscars if it runs the table). "Audition" is the more emotional pick, but "City of Stars" is better recognized; Ryan Reynolds whistling it in that Golden Globes hosting package didn't hurt.

Best Original Score
La La Land
Lion
Jackie
Moonlight
Passengers
How I wish this would go to Mica Levi's daring Jackie score, but you'd be a fool to bet against Justin Hurwitz for La La Land. An original musical is not going to lose Best Original Score.

Best Cinematography
La La Land
Moonlight
Arrival
Silence
Lion
Every winner in this category would deserve it, and Lion pulled out a victory from the cinematographers guild. I apologize for sounding like a broken record, though: La La Land's magic-hour compositions, which add dreamy oomph to the home city of most Academy members, will be hard to beat.

Best Costume Design
Florence Foster Jenkins
La La Land
Fantastic Beasts and Where to Find Them
Allied
Jackie
Modern-day movies rarely win in this category, so this is hardly a gimme for La La Land. Still, I don't think there is a potent enough alternative to draw votes: Jackie has flash but tills the same territory that previous Kennedy films and projects have done to death, while Fantastic Beasts and Allied offer great outfits in films that didn't really resonate. If La La Land wins, it's for that canary-yellow dress, one of last year's most iconic looks.

Best Makeup and Hairstyling
Star Trek Beyond
A Man Called Ove
Suicide Squad
ANYTHING BUT SUICIDE SQUAD, FOR THE LOVE OF GOD. Star Trek Beyond is the most deserving, but A Man Called Ove could surprise, since it's also nominated for Best Foreign Language Film.

Best Production Design
La La Land
Fantastic Beasts and Where to Find Them
Hail, Caesar!
Arrival
Passengers
La La Land's dream-ballet finale is a real feat of production design, and it never hurts to end with your biggest technical achievement fresh in voters' minds.

Best Sound Editing
Hacksaw Ridge
Arrival
Deepwater Horizon
La La Land
Sully
Okay, guys, this is the trickiest one. Sound Editing is all about the creation of sound effects, and musicals don't tend to get nominated here. They just don't! That La La Land managed it is indicative of just how much the Academy loves this movie, and since it's almost certain to win Best Sound Mixing — and a lot of Academy members still don't really know the difference between editing and mixing — I think it will end up taking both Oscars since the entire Academy votes on these categories, not just the sound branch that selects the nominations. The safer money is on the hellish war cacophony of Hacksaw Ridge, so I'm going out on something of a limb here. We'll see if it pays off.

Best Sound Mixing
Rogue One: A Star Wars Story
Hacksaw Ridge
La La Land
Arrival
13 Hours: The Secret Soldiers of Benghazi
The Sound Mixing category is meant to reward how those sounds are all assembled in concert with each other: Essentially, how you weave together the dialogue, music, and sound effects. Though I've heard some griping about the sound mix in La La Land's first freeway number, it would again be unwise to bet against a musical here. (Chicago, the last musical to win Best Picture, took home the Oscar in the version of this category that existed then.)

Best Visual Effects
The Jungle Book
Rogue One: A Star Wars Story
Kubo and the Two Strings
Doctor Strange
Deepwater Horizon
Though the scrappy Ex Machina won last year over better-financed fare, it would be hard to give this year's Oscar to anything but The Jungle Book, which conjured a convincing ecosystem (and countless sharp-tongued animals) out of an anonymous Los Angeles soundstage.

Best Short Film, Live Action
Timecode
Silent Nights
La Femme et le TGV
Ennemis Interieurs
Sing
These are the only Oscar-winning shorts I care to support, but in the interest of helping you win your Oscar pool, I think the frontrunners here tend to be the biggest crowd-pleasers (though, since so few voters actually make time for the shorts, they're pleasing an awfully limited crowd). It's likely between La Femme and Sing, then, and I'll give my nod to the latter.

Best Short Film, Animated
Piper
Pearl
Borrowed Time
Blind Vaysha
Pear Cider and Cigarettes
Pearl is appealing, but Piper is one of Pixar's best shorts, and it played in front of their juggernaut Finding Dory.

Best Documentary, Short Subject
Joe's Violin
The White Helmets
Extremis
Watani: My Homeland
4.1 Miles
The crowd-pleaser here is Joe's Violin and it would normally get my vote, but in this politically fraught year, I think more voters will reward the brave Syrian rescue workers of The White Helmets.