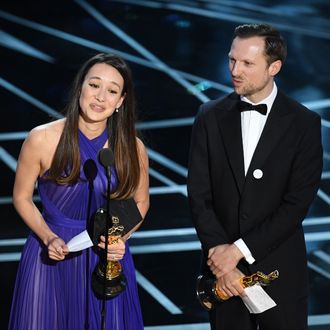 The White Helmets producer Joanna Natasegara and director Orlando von Einsiedel accept their Oscar.
Photo: 2017 Getty Images
It was only a matter of time, but 2017 made it official: The streaming services have crashed the Oscars.
Amazon and Netflix both won the first of what's sure to be many Oscars for the tech companies turned film distributors: Amazon took Best Original Screenplay and Best Actor for Manchester By the Sea as well as Best Foreign Language Film for The Salesman, and Netflix won Best Documentary Short for The White Helmets. For the latter two, the bigger narrative at work is certainly their sociopolitical resonance; The Salesman director Asghar Farhadi's skipped the Oscars in protest of Donald Trump's travel ban, and the cinematographer of The White Helmets was barred from attending.

Each company also had other nominations that didn't win, with Amazon earning four more for Manchester and Netflix one for Best Documentary Feature, 13th. While they didn't pick those up, this is a good start for streaming at the Academy Awards, and there should be plenty more to come, considering the way that Netflix looted this year's Sundance. Also, I think you can just buy an Oscar on Amazon anyway.