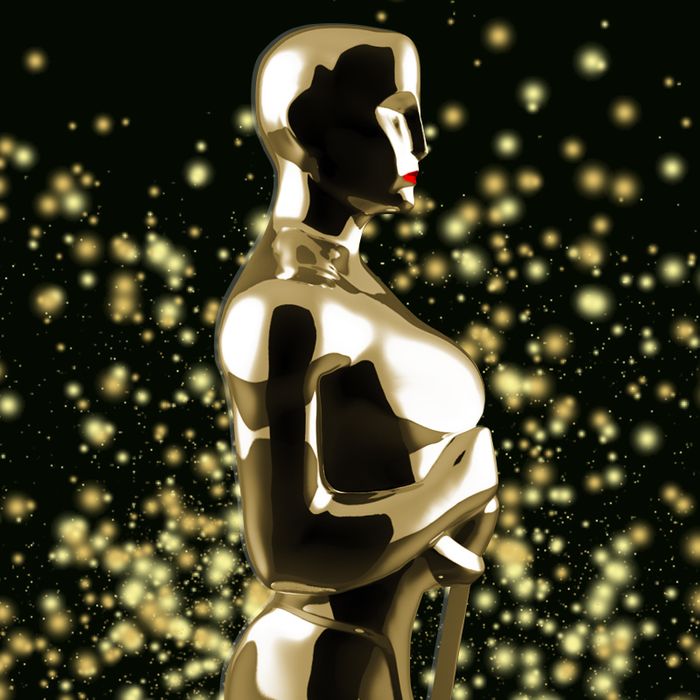 This year is one of the few to see three female-led films competing for Best Picture.
Photo-Illustration: Maya Robinson/Vulture
The Academy has engaged in so much relieved celebrating this year over Moonlight, Hidden Figures, and Fences — three films with mostly nonwhite casts have never competed for Best Picture at the same time, a boon after last year's #OscarsSoWhite fiasco — that voters may not have noticed something else noteworthy about this year's race.
For only the third time ever, three films with a female lead or co-lead — Hidden Figures, Arrival, and La La Land — are among those nominated for Best Picture. Not since the back-to-back races of 2010 (The Blind Side, An Education, Precious) and 2011 (The Kids Are Alright, Winter's Bone, Black Swan, True Grit) have we seen so many contenders showcase meaty female characters, stats certainly buoyed by the Academy's decision six years ago to allow up to ten Best Picture contenders after decades of there being only five.
But unlike 2010 and 2011's female-fronted hopefuls, none of which took home the prize, this year's La La Land is all but a lock for Best Picture, reinforcing an important message: The best movie of the year doesn't always have to be centered on a male protagonist.
Since the first Academy Awards were presented in 1928, only 22 of the 89 Best Picture winners have featured a significant female character. (This includes movies like La La Land that have female co-leads, including Million Dollar Baby, Titanic, Driving Miss Daisy, Kramer vs. Kramer, and Gone With the Wind.) And despite the spike in gender parity we saw in 2010 and 2011, there have been years where female protagonists have been almost entirely absent from the nomination pool, including 2015, the year of Birdman, American Sniper, Boyhood, The Grand Budapest Hotel, The Imitation Game, Selma, The Theory of Everything, and Whiplash.
Even more disheartening, it's been 14 years since the last time a true female-led movie won, 2003's Chicago, and that victory was less about the movie's characters than director Rob Marshall's lavish adaptation of the 1975 stage production. It's part of a long trend. When the Oscars do reward female-driven films, it's often in a musical — the biggest spate of such winners happened in the 1960s, when West Side Story, My Fair Lady, and The Sound of Music all triumphed — more good news La La Land (not that it needs it).
It's worth acknowledging that this year's ceremony will be the first to take place after the Academy's record addition of new members last June — of the 683 invitees, 46 percent were female, and 41 percent were people of color. And this increasingly diverse, younger, and outspoken voting base could be the source of many of the most frequent criticisms of La La Land: that Emma Stone's Mia is thinly sketched (she's a self-proclaimed cinephile who hasn't seen Rebel Without a Cause?) and that the film's take on jazz is culturally tone-deaf — stirrings have helped to boost support for La La's biggest competition, Moonlight. (Newly minted Academy member Mark Duplass went so far as to write an open letter to the Academy on the final day of voting to make the case for why Barry Jenkins's film most deserved to win Best Picture.)
Whatever happens on February 26, this year's female-led Best Picture nominees simultaneously reinforce and buck data about the current state of women onscreen. According to a just-published study by the Center for the Study of Women in Television at San Diego State University, 29 percent of the highest-grossing films of 2016 featured female protagonists — sadly, an all-time high, and an increase of 7 percent from 2015 — while women characters still only accounted for 32 percent of all total speaking parts. Gender stereotypes remained the same: Female characters were still less likely than male characters to be seen at work or portrayed as leaders.
This is why the NASA mathematicians of Hidden Figures, Amy Adams's linguistics scientist in Arrival, and Stone's hard-working actress in La La Land are so distinct. They represent the kind of heroes we're used to seeing men play in Oscar movies: characters who are defined by their lives' work, not their relationships. (See Rocky, Gandhi, The Artist, Birdman, and many more.) And while many actresses have won the Best Actress Oscar for playing such characters — Julia Roberts for Erin Brockovich, Helen Mirren for The Queen, to name two — their nominated films have historically lost out to more traditional, male-focused fare. (In the cases above, it was to Gladiator and The Departed, respectively.) Many more highly acclaimed movies with female leads, like Sophie's Choice and Thelma & Louise, don't even earn a Best Picture nomination at all.
Oscar's spotty record on this front is why it's so meaningful to see a movie like Hidden Figures on the ballot this year. It's the first Best Picture nominee in history to feature an ensemble of highly educated female characters — let alone a nonwhite cast — engaged in a heroic, professional pursuit. (The last contender with a comparably diverse cast was 2012's The Help, in which Figures' nominee Octavia Spencer used a pie made of human feces, instead of math equations, to make her stand against racism.) Add in the film's giant domestic box-office haul — nearly $147 million at press time — and Hidden Figures is arguably the most game-changing female-led movie since Bridesmaids.
None of this takes away from La La Land's likely Oscar victories, especially Stone's for playing a woman whose creative aspirations are treated as worthy as those of her male love interest. This is an especially poignant theme at a time when many women in America feel under siege, and Hollywood itself is struggling to reconcile its own ugly gender biases when it comes to hiring writers and directors. If the Oscars really do reflect our culture's most urgent narratives, La La Land, Arrival and Hidden Figures' placement among this year's best movies sends a powerful message: Stories with female heroes matter, maybe now more than ever.