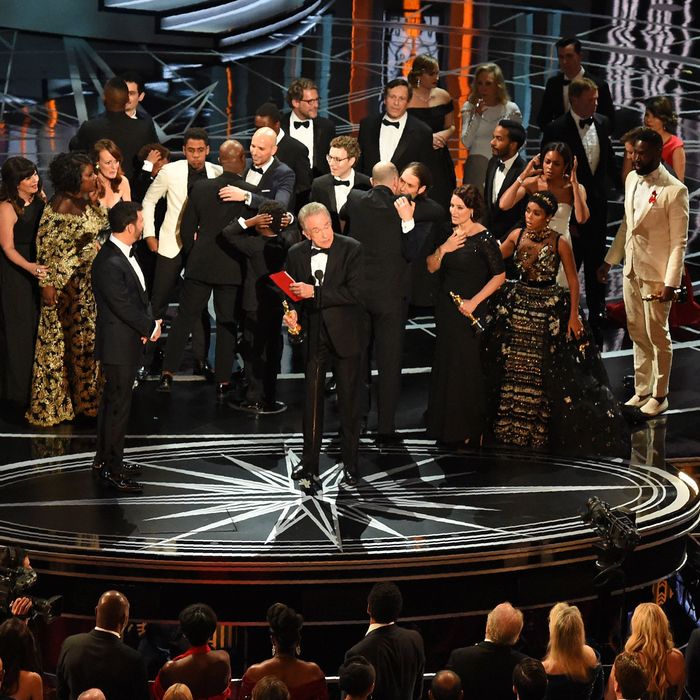 Total chaos.
Photo: Getty Images
Let's start with the obvious: After a long, sleepy, Matt Damon–trolling ceremony, the Oscars delivered the biggest twist possible: Warren Beatty and Faye Dunaway gave Best Picture to La La Land, that film's team came up to accept the award, and then the Academy revealed that Moonlight was actually the winner. It was a shot of adrenaline at the end of a night that was mostly given over to a slew of in-jokes, which, depending on your tolerance for Kimmel's sense of humor, were provocative or merely tedious.
For those who didn't catch the ceremony, or fell asleep during the technical categories, Vulture brings you the highest highs, lowest lows, and most baffling other moments from Sunday night's event.
WHOA: Warren Beatty and Faye Dunaway* announced the wrong Best Picture winner …
Of the many surreal things to analyze in the midst of this grand chaos is the moment when Beatty and Dunaway, given the Best Actress envelope — which Beatty admitted onstage he found confusing — decided to soldier ahead and announce La La Land as the winner anyway.
… which led to the moment when the La La Land team had to be interrupted during their speeches so it could be announced that the winner was actually Moonlight.
Everybody is going to be in shock at the after-party.
Now, back to the rest of the ceremony.
HIGH: Mahershala Ali making history.
Mahershala Ali, objectively a perfect human, finally won his trophy tonight. Ali has been on a winning streak through this awards season, and he is the first Muslim actor to take home an Oscar. He accepted the award as only a flawless man could: thanking his Moonlight co-stars, his former teachers, and his wife, who gave birth earlier this week.
HIGH: Isabelle Huppert laughing at Kimmel's monologue.
Of course nobody knows if she really liked the jokes — especially those jokes — but she's the world's greatest actress. You want laughter? You get laughter.
LOW: Jimmy Kimmel bringing a Star Tours bus full of unsuspecting Oscars guests to the ceremony.
No Kimmel event is complete with something that embarrasses ordinary people on national TV. The guests thought they were going to see a costume exhibition, but were instead led into the Dolby Theatre for an impromptu meet-and-greet with the Oscars crowd. The bit was painfully long, but hey, congrats to Gary from Chicago, who got to hold Mahershala Ali's Oscar.
HIGH: One of the inspirations for Hidden Figures, 98-year-old former NASA mathematician Katherine Johnson, joining Taraji P. Henson, Octavia Spencer, and Janelle Monáe onstage.
For a brief moment, we all wished we had paid more attention in math class.
LOW: Suicide Squad's win.
We knew it might be coming, but we weren't fully prepared for that sinking feeling when we knew the world would have to live with the line "Oscar-winning film Suicide Squad." If pressed to describe it, that feeling was a lot like watching Suicide Squad.
HIGH: Viola Davis's speech.
Yet another glorious Viola Davis speech about the importance of art. May they never stop coming.
HIGH: The Salesman winning Best Foreign Language.
For an Oscars ceremony set against an extremely politicized cultural backdrop, you couldn't ask for a more fitting moment than an Iranian film winning an Oscar. Asghar Farhadi's scathing, deeply human The Salesman took Best Foreign Language Film, and in protest of Trump's travel ban, Farhadi declined to attend the ceremony, sending a statement instead. "Filmmakers can turn their cameras to capture shared human qualities and break stereotypes of various nationalities and religions," he wrote. "They create empathy between us and others, an empathy we need today more than ever."
WHOA: The nonexistent film Hidden Fences reared its ugly head on the red carpet once again.
This time thanks to People and EW editor Jess Cagle.
HIGH: Benj Pasek's Acceptance Speech for Best Original Song.
Of La La Land's many Oscars, the best acceptance of the night came from songwriter Benj Pasek, who, with Justin Paul and Justin Hurwitz, won for Best Original Song. Thanking his mom, Pasek said she let him "quit the JCC soccer league to be in a school musical." Potential source material for a musical?
HIGH: In fact, all the shout-outs to moms.
Dev Patel brought his mom, as did Lin-Manuel Miranda. What have you done for you mom lately, huh?
WHOA: Nicole Kidman does not know how to clap.
How did she make it this far in life???
HIGH: Lion star Sunny Pawar and his love of Mike and Ikes.
Jimmy Kimmel brought the spotlight to perfect tiny human Sunny Pawar when he went into the crowd and interviewed the little star of Lion about which candy he liked best and whether he had seen the movie The Lion King. After Kimmel raised Pawar up like Simba at Pride Rock — which, learn how to be less condescending, Kimmel — Pawar gave a shout-out to Mike and Ikes. Hopefully Sunny got several boxes of his favorite candy from his seat mates after his grand show of affection.
HIGH: Jimmy Kimmel's best troll against Matt Damon.
After taking shots at his forever-nemesis all night long, Kimmel turned the whole show against him by having the announcer introduce "Ben Affleck and guest" as Damon walked onstage with his Good Will Hunting pal. Edna Mode approves.
LOW: Most of Kimmel's other Damon jokes.
We get it. You two extremely rich and successful men like to entertain us normals with your fun inside joke. Maybe learn at least one new one?
HIGH: John Cho and Leslie Mann recapping the scientific and technical awards, which they hosted.
While explaining the intricacies of what actually happens at the sci-tech awards, Cho and Mann gave us the warm, witty banter that was sorely missing from much of the ceremony. Could we go to that show instead?
HIGH: Chrissy Teigen falling asleep.
We just hope she woke up in time to catch the end.
* This post originally stated that Warren Beatty announced the wrong Best Picture winner. It was actually Faye Dunaway who said the wrong title, though both actors were presenting the award.