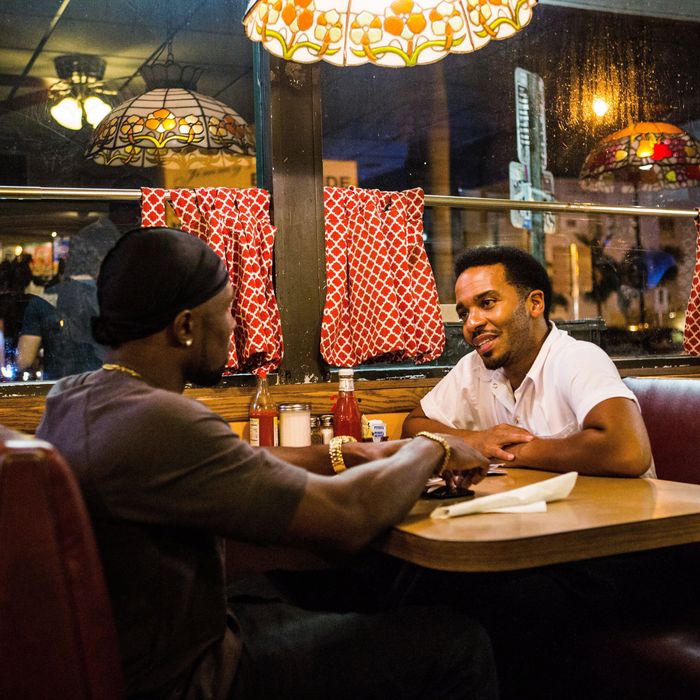 Trevante Rhodes and André Holland in Moonlight.
Photo: A24
"What?"
It was the question asked around the world last night, from living rooms to the Dolby Theatre, as the brain trust behind the Oscars telecast executed an all-time fumble. After Faye Dunaway announced that the Best Picture winner was La La Land — and following three acceptance speeches by the producers of that movie — a haphazard contingent consisting of stagehands and host Jimmy Kimmel ambled onstage to correct the record: Moonlight was the actual Best Picture winner. (Co-presenter Warren Beatty had been handed the wrong envelope, kicking off the confusion.) Though Moonlight director Barry Jenkins and his producers then made their way to the microphone to deliver shell-shocked speeches, I'd wager that so many people were still muttering "What?" that Moonlight's major victory was half-obscured.
But as the dust settles on that snafu, there's another question longtime Oscar watchers are starting to ask: "How?" After going up against La La Land, which tied the all-time record for Oscar nominations with 14, how did the critically acclaimed Moonlight pull off that big win?
To be sure, there's one very simple explanation for that victory: Moonlight won because it deserved it. Sometimes the best picture actually wins Best Picture and from here on out, Moonlight is likely to occupy the highest rung of most pundits' lists when they survey the all-time greatest Best Picture winners. It's a remarkable and personal work of art.
Still, Oscar voting is rarely as clean-cut as all that. If you kibitz with Academy members all season or simply read Scott Feinberg's dishy "Brutally Honest Oscar Ballot" series every year, you'll quickly realize that many more factors go into an Oscar vote beyond the bedrock quality of the project in question. It's instructive to look at all those other reasons because as any longtime Oscar pundit will tell you, Moonlight just blew through some of the set-in-stone rules about what a contender needs to accomplish first in order to win Best Picture.
It wasn't just that the biggest Oscar of the night went to something so gratifyingly intimate, though Moonlight, with its $1.5 million budget, is the least expensive film to win since Rocky and, with a $22 million domestic gross, the least widely seen winner since The Hurt Locker. And it wasn't just the fact that Moonlight, a coming-of-age story about a gay black man, serves both as a corrective and a gauntlet thrown to an industry that traditionally canonizes stories about straight white men and, indeed, is still mostly made up of people from that demographic.
It's also this: While Moonlight had done exceptionally well with most critical bodies all awards season, it did not claim the precursor awards from guilds that a Best Picture winner traditionally can boast. Both the Producers Guild and Directors Guild favored La La Land. The Screen Actors Guild recognized Moonlight's Mahershala Ali with a Best Supporting Actor trophy but in the top SAG race for Outstanding Performance by a Cast, a category most pundits thought Moonlight would win since La La Land wasn't nominated, the SAG body instead went for Hidden Figures. The most significant win Moonlight got from the guilds was a Writers Guild victory in a different category than the one the film was nominated for at the Oscars, and the most high-profile win it managed all season was from the Golden Globes, which are voted on by a small body of industry gadflies and not actual Academy members.
It wasn't as though Moonlight was struggling: Nearly every Academy voter I talked to at the end of last year was high on the film, and it went on to earn eight Oscar nominations, a very strong showing. Still, the guilds hadn't been going for it and pundits ascribe a lot of importance to those decisions because SAG, the PGA, and the DGA are made up of so many people who vote on the Oscars. For Moonlight to come out of those snubs and still win Best Picture suggests that industry momentum turned toward it very late in the game.
What happened in those final weeks? I have a few theories.
The most obvious one is that Moonlight best reflected our current cultural moment and voters finally got wise to that. While La La Land provided an escapist alternative for industry figures who are still shell-shocked from another recent surprise win — the election of President Donald Trump over Hollywood's favored candidate, Hillary Clinton — it was nominated for all those Oscars before Trump took office. By the time the final round of voting began on February 13, Trump had been president for weeks and his controversial executive orders had spurred worldwide demonstrations, the biggest of which took place in Los Angeles, the industry's backyard. In that climate, a retro-leaning film stuck out like a sore thumb.
With its characters anachronistically decked out in mid-century fashions, La La Land pays homage to a bygone era of filmmaking, and I mean to take nothing away from the quality of the movie by saying it could have been made in 1950, 1980, or 2016 with little difference beyond the occasional intrusion of a cell phone. Moonlight, however, is a movie about today that couldn't and wouldn't have been made 60 years ago. And while the Academy loves to reward period films that grapple with relevant issues from a safe distance, Moonlight offered them the rare chance to be contemporary in every way. For a voting body that has prioritized updating its member rolls to better reflect our diverse cultural moment, picking Moonlight reinforced that goal.
Did that influx of new Oscar voters help, too? My guess is yes and no. Moonlight's win could have come down to a handful of votes cast by the more youthful members inducted this past year, but diversifying the Academy has been a slow process: The demographic goals are long-term, many older voters still remain, and I've heard that some of the hipper industry figures who were asked to join the Academy last year ultimately declined the offer. Still, the passion of those younger voters likely played a major part in Moonlight's victory. The Academy employs a preferential ballot that's meant to reward the consensus pick, but I talked to so many voters who had La La Land and Moonlight in their top two spots that both films could claim consensus, practically to the exclusion of every other contender.
The difference, I think, is that the contingent that voted for Moonlight was more fired up. Academy members like Mark Duplass spent their final weeks beseeching fellow voters to join Team Moonlight; hell, I even talked to a voter who gave Moonlight his top vote, sight unseen, because he wasn't all that passionate about La La Land and was excited by what a win for Moonlight would represent. It's true that there had been a La La Land backlash online, driven in part by the sheer sum of those 14 nominations, but I don't think it swayed the Academy's insulated older voters, who likely never heard about it and wouldn't have let it sway their votes regardless. Still, the sentiment behind that backlash — namely, that Moonlight matters more — is one that I think many voters had been coming to on their own accord, and that younger voters in particular were moved to evangelize about.
"To hell with dreams," Barry Jenkins said as he accepted Moonlight's Best Picture Oscar, because that victory had exceeded even his wildest expectations of what could come true (and almost didn't). I suspect the film's win will have the same transformative effect on Oscar history. Decades of tradition has been upended by Moonlight's victory, and that's a good thing. Going forward, it feels like anything is possible.