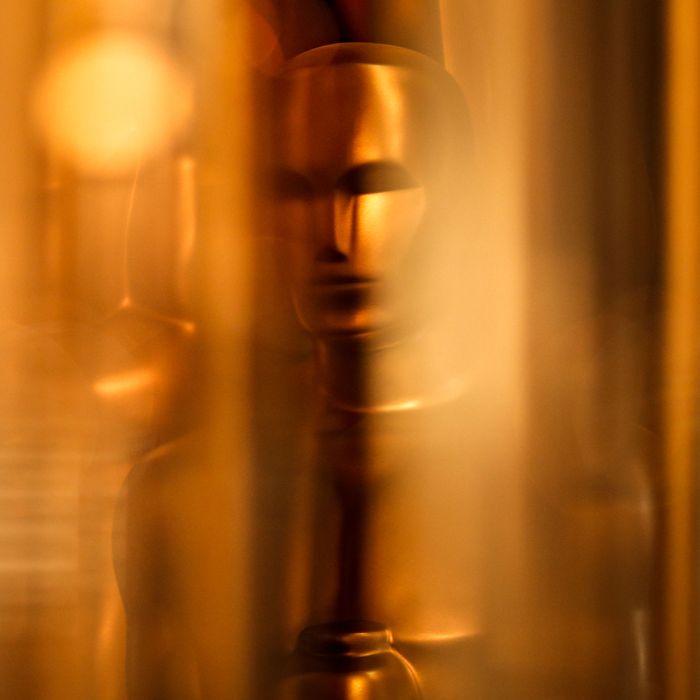 Photo: Christopher Polk/Getty Images
Recent years have seen the culture slowly shed its discomfort at talking about the past misdeeds of famous men, a development that raises plenty of hard questions. If it's the best practice to believe every allegation, how do we reconcile that with an acquittal in court, or a dropped lawsuit? In what sort of cases do we allow for the possibility of redemption, and which crimes are so vile that we don't? Whatever your answers, the topic has been inescapable this awards season. In the fall, The Birth of a Nation saw its Oscar hopes derailed by the controversy over Nate Parker's college rape charge. Later, as Manchester by the Sea's Casey Affleck racked up Best Actor nominations, many observers wondered why a years-old sexual-harassment suit — which he settled — had seemingly not affected his chances in the same way. And a decade after his career cratered in a haze of alcoholism, anti-Semitism, and allegations of domestic violence, Mel Gibson was able to mount a successful comeback with Hacksaw Ridge with little trouble.

All three men are accused of different offenses, and all maintain their innocence, at least when it comes to the worst of the allegations against them. How, then, should awards voters weigh these types of controversies when it comes time to fill out their ballots? To find out, we spent this red-carpet season asking industry veterans how a contender's personal life affects their vote. Many would only answer the question in general, while others were open to discussing Parker, Affleck, and Gibson in particular. Here's what they said.

Kenneth Lonergan (writer/director, Manchester by the Sea): I don't make judgments on my fellow man. I think it's rude. And I don't know what anyone's personal life is, unless it's in the newspaper, and then I wouldn't believe it. Anytime I read anything in the newspaper about anything I know about, it's wrong. So I'm very careful about paying attention to what the media says about people's personal lives in newspapers and especially online. And you can't clear it up. It's impossible to clear up. You can't help it. It's systemic. There's only a certain amount of space, or the point of view of an editor, but it's hard to get anything right. It's important that you keep trying, but it never quite comes out the way it should. And how can you be objective? It's impossible. I don't blame you guys. It's hard to keep things straight. There's a famous story about a man who was in the Tower of London, he was writing a history of the world, and he, in the 16th century, looked out the window one day, and one of the guards had killed another guard. And he asked the guy who came in to feed him, "What happened?" And everyone who came in, they all gave him a different story. And he gave up writing his history, because he figured if he couldn't find out what happened outside his window, he wasn't going to be able to explain the history of the world.
Keegan-Michael Key (comedian): I think you can't separate the artist from the art. I think people can't do it. I'm trying to give you a psychological reason for it and there is a psychological phenomenon, but I can't think of it right now. But there is always a reason that we have to categorize. Even if you try to [separate it], you can't, because as humans we have to categorize things. So you've gotta pick, bad or good. We check into what the rest of society says, and we go with them. So if the rest of society said 'bad,' you're going to pick bad. There's certainly a lot of ambivalence in the back of your head [when you nominate and vote] and that's why it has to be private. You could just go ahead and be a cyborg and just vote for the work, but that will not happen. I don't think the human animal is designed that way.
Rich Moore (director, Zootopia): I look at each piece as just a piece of art, and whether it speaks to me. We're all human, we all make mistakes, we all have our weaknesses, but that's not to say that a person can't produce a real piece of art. Van Gogh was insane, but we look at his paintings and we see brilliance. It's hard to listen to Charles Manson's music. I never found that entertaining. But I try to be even. If it were a murderer, it would be difficult to force myself to do that. War crimes … I can't really appreciate Hitler's paintings. It's difficult to take him seriously as an artist. John Wayne Gacy, I can't get into his stuff. It's a narrow scope. And if it's allegations, it's not a situation where we're privy to the details of what happened, and they weren't convicted, it's a gray area. I watched Hacksaw Ridge, and I enjoyed the movie, you know? I thought it was a well-crafted film. Does it make a difference that it's Mel Gibson? I don't know. That doesn't mean that I didn't enjoy the film.
Simon Helberg (actor): I vote in SAG, but I am not in the Academy. I've never even tried. It's a very, very complicated question. I guess it is a case-by-case basis. There's also when the law comes into it and acquits somebody, I don't know how much we're supposed to take that as gospel. I mean, look, sometimes where there's smoke, there's fire, and sometimes there's not. It goes into a moral conversation as to whether you need to look into the personal life of the artist. I think there are certain things that we probably would be less likely to forgive, and that might say something about your own ethics and values. For me, I've gotta kind of take it case by case.
Barry Jenkins (director): I think we sort of do it in degrees. The world we live in now, there's so much information, and it's hard to engage with just the work, and not engage with the filmmaker, so it can be hard to separate. When I go in to vote, which is weird, because I have a film that's being voted on, maybe I'll just abstain. Bow out altogether.
Joe Weisberg (showrunner, The Americans): Are there any big perverts up for awards this year? Oh! I was like, Roman Polanski isn't up for anything … It's complicated, because you'd have to think that would have an affect beyond voting for an award, which I don't think it does. There is at least one person in the world of entertainment who I won't name and condemn, but who I could not cast a vote for, for anything. If he saved the world, I could not vote to give him a Nobel Peace Prize. I'm not saying who, but I would not be willing to contribute to the glorification of that person in any way. That's more important to me. Even though judging the art on its own is also important to me, but it's less important than that.
Joel Fields (showrunner, The Americans): I was going to say, is Leni Riefenstahl up for a lifetime achievement? Because no, not right now. Too soon for Leni Riefernstahl. I do generally just think about the work, but who are we kidding? Look at the heat on those respective movies [Birth of a Nation and Manchester by the Sea]. The heat of one movie dissipated before it even had a chance. But it's a two-part question and you can't answer the impossible part — to what extent is it conscious, to what extent is it unconscious? There's a value attribution that comes with your consumption of art, and you can't control what your brain is doing.
Stephen Schiff (writer, The Americans): I'm serious about the work. I judge the work, and I leave the morality out of it. I like Wagner. If you like Wagner, you can't start judging people on their morality. Let me just say, to put [movies like Birth of a Nation and Manchester by the Sea] together, I think that's an error. Those are two separate things, so you can't lump them together as a kind of theme. It does neither one justice
Amber Ruffin (writer, Late Night With Seth Meyers): It definitely would be a tiebreaker. I wouldn't want it to be, I'd like to think I could look past it, but if it were down to two [people], it would definitely sway me. Not like a cheating-on-your-wife scandal, though. Or being caught in a porno theater. I don't care about that. But like harassed a woman? Yeah. Then again, look at R. Kelly. When I'm listening to his songs, I don't think about R. Kelly the human being. If I can't see him, I'm like, "Oh!" But if you're looking at an actor, then you're thinking of the person. But if a kid was listening to R. Kelly, I would feel differently, for their literal safety.
David Harbour (actor, Stranger Things): It doesn't [affect my vote]. I judge them completely on their work. There's a lot of people that I don't like as human beings but think they're magnificent at what they do. What I get to see in their acting or their writing is a broader human being, and I like that. How we're portrayed in the press is just a certain angle sometimes, and when you get to act, you get to show us different colors, different facts of yourself. Some people are so wildly three-dimensional that I could just never know all of them. There is a fine line, but I do believe you should be allowed to be an artist and try to express complicated things. Even if you've committed a crime, if you've served your time, and you come out, I believe in redemption, especially through artistry.
Lewis Black (comedian): I take into consideration the fact that if I've only seen two of the five things, I don't vote. So, a lot of the time, that takes the criminals out of the running!
Alex Gibney (documentarian): I try my best to just focus on the work. You're supposed to be judging the work, not the person, so I think that's the way to go. I'm not going to get into the comparison [between Nate Parker and Casey Affleck], but I still rudder in the same direction — judge the work, not the character. Sometimes bad characters can produce good work, and vice versa.
Thelma Schoonmaker (editor): I don't know many of the nominees that well because I work in New York and they're in L.A., so I've never hung out with them and I know nothing about their personal lives. I judge it purely on their work. I've worked with a lot of geniuses, and the fact that they're geniuses sometimes means that they're like an open sore, so they're much more sensitive to things and get more upset about things than maybe more normal people like me, and I don't expect them to be normal. Why should they be? But throughout history, there have been a lot of crazy geniuses, like Mozart was pretty nuts. Does that mean you don't listen to his music? No. Will it affect my voting? I don't know.
Baz Luhrmann (director): Wagner was never up for an award, but he was a proud anti-Semite. Every artist is flawed. No artist is as good as a great piece of work. We're human beings. But it's not a horse race. Trying to say which one is best? It's almost impossible. So in that regard, if someone has done something totally heinous, it might subconsciously affect you, but if the work soars, the work soars.
Isabelle Huppert (actor): Very rarely do you have to face this kind of situation, and I haven't faced it yet. It's not about legitimizing anything.
Sandra Hüller (actor, Toni Erdmann): I never thought about it. I'm really far away from that, because I live overseas, so I really don't hear the stories. And when we vote in our academy, we vote for the performances, for the work. We don't have this culture with so much people living in public.
Trey Edward Shults (director, Krisha): I am a big proponent of separating the art from the person. I know there are times when you can't do that, I guess, when something is so terrible, but in general, I try to separate the two things. I'm probably not the one to say where the line is, but it also depends, what's the level of evidence against this person? It really depends on the specific allegations. Nate Parker, Casey Affleck, I don't know them as people, I don't know everything that goes into it, it seems like Nate Parker didn't handle it as well as he could have. I don't know. It's very messy. It makes it very weird watching that movie and digesting that after the real life. Sometimes it's incredibly hard to separate the person from the art. It seems like every controversy with Mel Gibson has died down, right? When I was hearing about his personal stuff, it made him more interesting. Listening to his voicemails, knowing that this man is battling demons, and you can see that in some of his performances, it's interesting, you know? It's tricky. The line gets blurred so often.
Asghar Farhadi (director): I only think about cinema. It could be anything, the film can be about anything, but it has to affect me and influence me on a cinematic level. I forget about the personal lives of the filmmakers, and I don't even care what the subject matter of the film is, I only care about how it's being portrayed. And fortunately, I am quite distanced, I am away from all this, because I don't live here. I only watch the films. I always try not to read any of the reviews of the films I haven't seen, therefore, I think I come in with a fresh outlook.
Reporting by Jennifer Vineyard at the National Board of Review Awards, the New York Film Critics Circle Awards, and the WGA Awards; and by Jenny Peters at BAFTA Los Angeles pre–Golden Globes tea party.