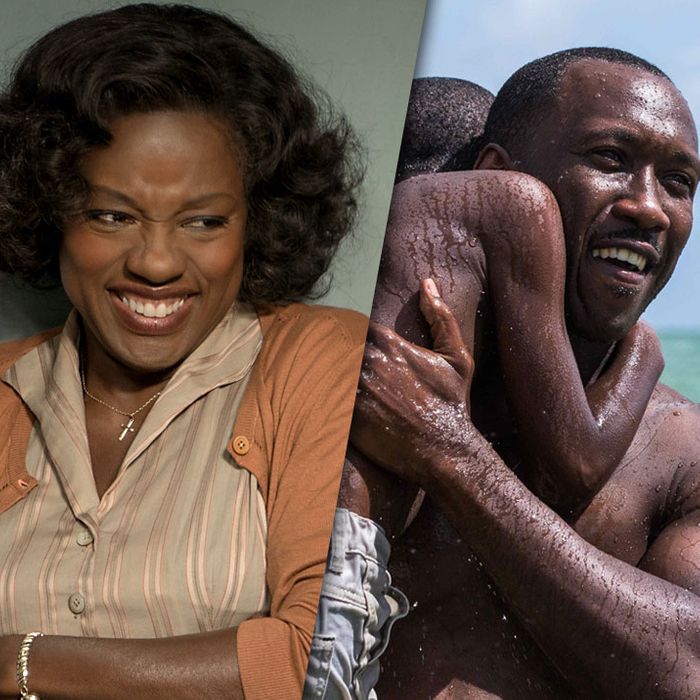 Zootopia, Fences, and Moonlight.
Are you the type of person who tried to see every Oscar-nominated film this year? If so, you probably failed, right? There's no shame in that — there are a lot of movies nominated for Oscars every year. It's nearly impossible to see them all! Thankfully, now that long list of great films has been narrowed down to a select few deserving winners (and Suicide Squad), catching up is easier than ever. In fact, you can see most of the winners without even leaving your own home. Here's now to watch the 2017 Oscar winners online.

Moonlight (Best Picture, Best Adapted Screenplay, Best Supporting Actor): This is not a joke, Barry Jenkins's intimate coming-of-age tale really is available to rent or buy on Amazon and Vudu.
Manchester by the Sea (Best Original Screenplay, Best Actor): Amazon picked up this New England weepie after Sundance last year, and it will eventually start streaming on Amazon Prime for all eternity. Until that day, it's available to rent or buy on iTunes and Vudu.
Fences (Best Supporting Actress): Want to really hone your Denzel or Viola impressions? ("Lyyiike you?") Then buy Fences on Amazon or iTunes so you can watch it again and again.

Zootopia (Best Animated Feature): It's a delightful animated romp, and yet … it also makes you think. You can stream it on Netflix, or rent or buy it on Amazon.
O.J.: Made in America (Best Documentary Feature): Is it a TV show? A movie? When you're streaming it on Hulu or WatchESPN, it doesn't really matter.

Hacksaw Ridge (Best Film Editing, Best Sound Mixing): Is the sound in this film really Oscar-worthy? There's only one way to find out: Rent or buy it on Amazon and iTunes and see if the raw intensity of the Pacific theater comes through in your crappy laptop speakers.

The White Helmets (Best Documentary Short): Netflix won its first Oscar for this short about rescue workers in Syria; as you may expect, it's currently streaming on Netflix.
Piper (Best Animated Short): It feels like Pixar wins this every year, but this was actually the studio's first win in Animated Short in over a decade. (They just get nominated every year.) You can buy it on iTunes and Vudu.
Arrival (Best Sound Editing): Nunna nun, nunna nunna na, nun nun nunna na, nunna na na, nunna nunna na. (Translation: Arrival is available to rent or buy on Amazon and iTunes.)

The Jungle Book (Best Visual Effects): For this one you just need the bare necessities: an internet connection and a Netflix password.

Suicide Squad (Best Makeup and Hairstyling): That's right, it's now "the Oscar-winning Suicide Squad," baby! If you're ever in the mood to see what Academy-endorsed makeup and hairstyling looks like, this ill-received supervillain film is available to rent or buy on Amazon and iTunes.
A note: The Salesman, Fantastic Beasts, La La Land and the live-action short Sing aren't available to rent or stream yet. However, you can stream the La La Land soundtrack on Spotify, and that's almost as good as the real thing. (If La La Land knows anything, it's about things that are almost as good as the real thing.)