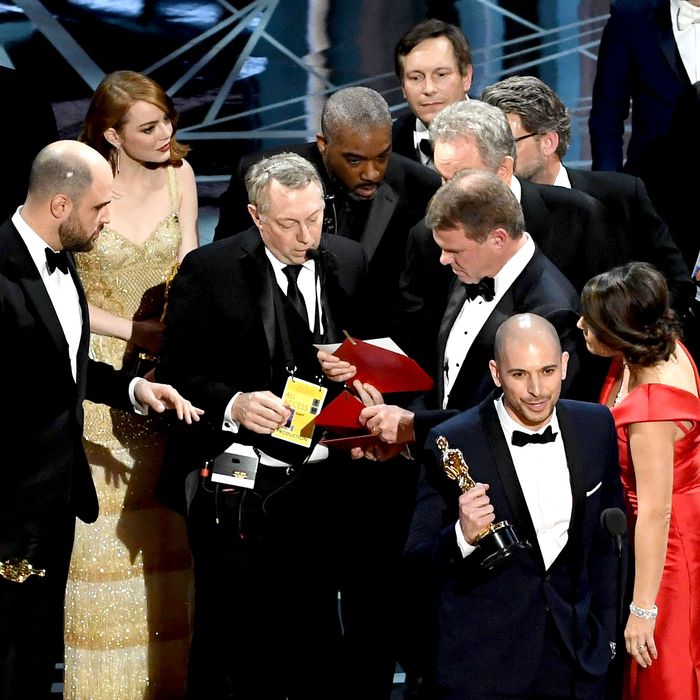 Photo: Kevin Winter/Getty Images
That was not the night anyone expected, for better and worse.
Before we get into everything that unfolded last night: It's important not to blame Warren Beatty. Seeing him like that beside Faye Dunaway was already so wrenching. Their Bonnie and Clyde almost single-handedly kicked Hollywood into its counterculture New Wave. And who can forget the sight of him (in the '80s) presenting Best Picture beside a smirking Jack Nicholson, looking as if they'd just come from having sex with every single female usher in the Dorothy Chandler Pavilion? It was not his fault. He opened the envelope, paused, theatrically squinted, and then showed it to Dunaway as if to say, "Uh, what the fuck does this mean?"
Others have pointed out that the story of the evening — Moonlight wins Best Picture! — was irrevocably upstaged by someone's boo-boo. Twitter positively swarmed with jokes about the presidential election and how the wrong envelope got read that time, too.
I turned off my TV feeling a little sick at the humiliation of the La La Land crew and the implication that justice had somehow prevailed. I love Moonlight. Who doesn't? But almost any other year, a win by a lovely, passionate, ambitious, relatively downbeat, low-budget (no major studio would make it) original musical like La La Land would have been rightly celebrated. Instead, it somehow became the symbol of white privilege and mindless escapism. Its win would have been proof that Hollywood wasn't ready to give Best Picture to a Moonlight or a Hidden Figures or anything that didn't come from the mind of a straight white male.
What a sick twist. And how unfortunate that the national conversation about movies — and the relationship between art and politics — must always come down to the Academy Awards. We have ceded them so much power.
For the rest: As I said in my liveblog, I was wrong about a lot of things. I thought the political statements by presenters and winners would be much more strident. I was of two minds about that. Many of Jimmy Kimmel's jokes about Trump landed, though not many could have stung. And the pleas for tolerance were tasteful, made more in sorrow than in anger.
No one seemed to want to offend the parts of the country that support the current president. No one wanted to pull a Michael Moore, who stopped the show in 2003 by saying that the George W. Bush administration had just put us into a "fictional" war. (At the time I thought he was boorish and I was dead wrong.) There were good, smart, sincere words spoken last night, and many people wore ribbons in support of the ACLU. But we are in a crisis, and this wasn't a crisis awards show. No one even noted one particularly grim irony: In the '50s, the U.S. government descended on Hollywood, suppressing freedom of expression and destroying careers and lives in the name of ferreting out Russian agents and their dupes. I wish that Kimmel had turned the tables instead of taking up precious time with his stupid Candid Camera stunt. The sight of every single person on that tour bus whipping out his or her cell phone said a lot — too much — about how "mediated" our culture has become. People on the other end of the "candid camera" now need to complete the experience by shooting their own videos.
I was wrong about Casey Affleck. His performance was just too good to be fatally undermined by the charge that he'd gotten away with sexual harassment while a black man with no connections, Nate Parker, had been shut out of the awards competition. For once it came down to merit. Despite the hosannas at Sundance, Birth of a Nation stunk, while Affleck's presence in Manchester by the Sea was indelible. And Denzel Washington gave a driving, forceful stage performance in Fences — one that had none of those naked revelations that Affleck's performance was so full of.
Was that bizarre final scene a metaphor for Hollywood's confused values? The critic Godfrey Cheshire has wondered on social media if the acclaim for Moonlight was a desperate attempt to anoint a black filmmaker's work following the crash and burn of Birth of a Nation. I don't agree fully. Moonlight is worthy. It will be just as fresh in 50 years (if humans are still around) as it is now. But I know that Hollywood thinks in just those terms. And I think the enormous feeling of uncertainty somehow seeped into the heads of PricewaterhouseCoopers employees and maybe even the envelopes themselves.
I'll never get out of my head the sight of producer Marc Platt yammering on about his dreams (it was odd how the first two La La Land producers spoke as if they were accepting individual awards) while figures flitted to and fro behind them and the stage picture began to decompose. Warren Beatty — the symbol of Hollywood virility in the second half of the 20th century — stood blinking impotently, trying to explain what happened and no doubt beginning to second-guess his actions. (He is probably doing that as I write this.) One set of figures replaced the other set, which drifted off, shell-shocked. The impact of Barry Jenkins's words were blunted, as was the message of hope to the kind of kids who will no longer have the same protection in their schools that they did last year. Then our emcee made bad impromptu jokes, ending the evening by turning the conversation back to himself and the idea that he'd never be invited back. Across the country, Donald Trump watched in glee, secure in his belief that his own machine is — in comparison — well-oiled.