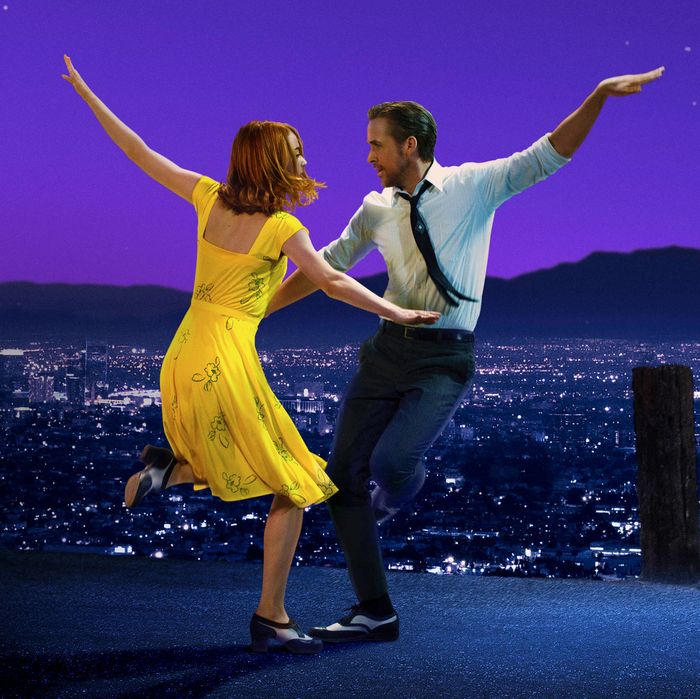 This is the dress.
Photo: Lionsgate
When the first ads for La La Land hit billboards and subway stations from L.A. to New York, the image was instantly iconic: a violet night sky, the sparkling city background, Emma Stone and Ryan Gosling mid-dance, and that yellow dress. The kind of dress that goes down in costume history and just might score an Oscar for designer Mary Zophres at Sunday's Academy Awards. That dress, of course, was no accident. "I realized very early on in my first couple days of prep that we were gonna make all of Emma's dresses that she dances in," Zophres told Vulture at Tuesday's Costume Designers Guild Awards. "I wanted it to be believable that a struggling actress would have these dresses, so they weren't made with the intention of being couture. They were made for her, they fit her beautifully. But it feels like a real dress too, that moves with the dance movements."
The color itself was inspired by one of Stone's real-life looks. "We had a very specific palette for the whole movie. Two years before we made the film, Emma was on the red carpet in a canary-yellow Versace. I showed that plus a sketch to [director] Damien [Chazelle]. I was like, 'What about this?' And he was like, 'I love it.'" From there, Zophres got to work.
"I designed this neckline that I think looks beautiful on her, sort of a square. It was reminiscent of this illustration I saw of a dress from the 1930s. And the cap sleeve was because she had to dance in it," Zophres explained. "I didn't want to do sleeveless, I just wanted to have a feminine sleeve. We made a prototype out of a fabric that was a polyester-jersey that I got at Jo-Ann's. And it was this really vivid yellow that I wanted it to be. It fit her beautifully, it moved beautifully, and it was appropriately casual because she's meant to start her day at a pool party. But I wanted it to have this subtle print on it. I had this piece of [floral] vintage '50s fabric; it was kind of Matisse-like. And I was like, 'Let's do this flower.' So my ager/dyer — the guy who does the aging and the dying — he stenciled and hand-painted the flower print onto the pattern, so we could pick where the flowers went, and then we sewed it together."
Such meticulous design only elevated the color, which was never questioned. "We knew that they were going to dance at magic hour, right when the sun is about to go down, so we wanted something to pop and that's the definition of pop," Zophres said about the canary hue. "It's a joyous color. It was a joyous moment in the film: All of our guts were like, 'It's great!'" Their instincts were right: The dress captures a feeling, sky with no ceiling, the sunset inside of a frame. We'll see on Sunday if the Academy, made up of those fools who dream, agrees.