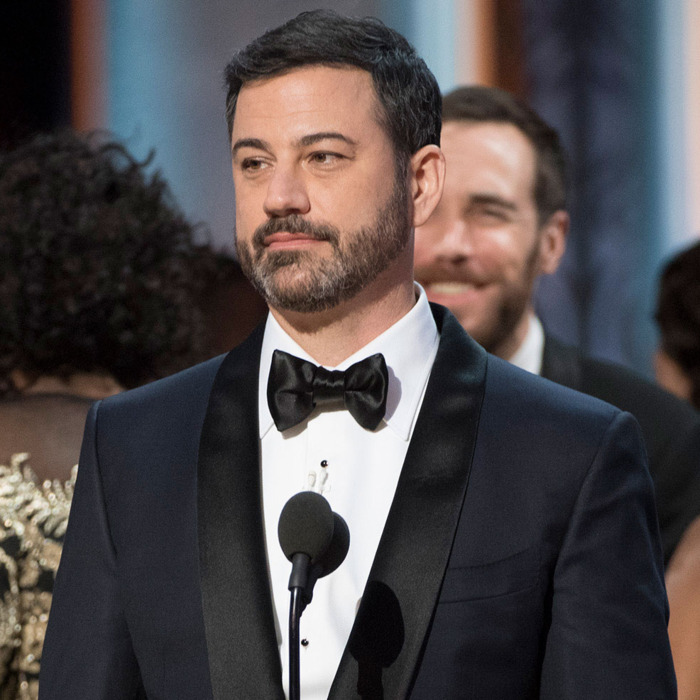 Jimmy Kimmel.
Photo: Eddy Chen/ABC
The most surprising, perplexing, and exciting Academy Awards moment in decades happened on Sunday night, when the Oscar for Best Picture was given to La La Land and then, minutes later, handed to its rightful owner, Moonlight, due to what appeared to be an envelope distribution error.
This was the awards-season equivalent of watching a "Dewey Defeats Truman" headline be retracted and corrected in real time, and it was more startling than anything that has happened on the Academy Awards in recent or even distant memory, including the time a streaker darted across the stage in 1974, or when Crash won over Brokeback Mountain in 2005. It was one of those moments that had to be seen live, as the mix of awkwardness, confusion, and underdog triumph transpired in one shining, jumbled, Warren Beatty–botched moment. (Actually, it was Faye Dunaway who read the name "La La Land" after a befuddled Beatty, allegedly staring at a Best Actress winner card instead of one for Best Picture, did what men often do: thrust the problem into a woman's hands and let her sort it out.)
Whether you were rooting for Moonlight or not, that jaw-dropper of an Oscars' endings immediately catapulted to the top of the list of the year's best live-TV moments. (In a year, mind you, when literally everything on TV news makes one question the nature of reality.) What's unfortunate, however, is that a lot of people watching the Oscars — especially on the East Coast, where it was well after midnight — had probably tuned out before the Best Picture was announced, revoked, and re-announced. The fact that it took so long for the Oscars to get to its grand, bizarro finale speaks directly to what needs to be fine tuned and fixed about the telecast.
The Academy Awards has, effectively, one job: to honor the movies that came out the previous year by announcing the winners in 24 categories. Everything else it does — the host's monologue and other intermittent comedy bits, the In Memoriam segment, the montages that celebrate the beauty of cinema — is theoretically optional. The problem is that the Oscars routinely tries to serve a bunch of ancillary purposes that distract from its core mission, watering down its impact as televised entertainment. I am pretty patient with the often slow momentum of the Academy Awards telecast because I feel invested in finding out who wins, and, apparently, have a higher tolerance for awards show b.s. than most viewers. But even I found myself aching for the Oscars to pick up the pace this year. If it had, the La La Land–Moonlight debacle might have aired closer to 11:30 p.m. ET, as scheduled, instead of running over into Monday morning.
From the very beginning of the ceremony, which opened with Justin Timberlake encouraging the Hollywood elite to get on their feet for "Can't Stop the Feeling," the Oscars seemed determined to make this year's proceedings spontaneous and unpredictable. Candy and doughnuts fell from the ceiling of the Dolby Theatre — not once (which was cute), not twice (okay), but three times (too much). Kimmel even brought a bus load of Hollywood tourists into the auditorium where the ceremony was being held so we, at home, could watch what happens live when normals are unexpectedly thrust into the faces of the famous. Some people, at least in my social-media feeds, thought the extended bit was hilarious. Other responses may be best summarized by a tweet from New York Times film critic Manohla Dargis: "fuck this shit."
What I know is this: We did not need a special Oscars edition of Mean Tweets at 11 p.m. Eastern time, when there were still several awards left to be announced. If you cut that segment and the bus tour diversion, not to mention reduce the number of jokes Kimmel made at Matt Damon's expense, we would have gotten to Best Picture much, much more quickly. And Kimmel's performance, which was fine overall, would have seemed that much sharper. That should be the goal, shouldn't it?
Although some viewers may have tuned in expecting surprise political commentary regarding President Trump, the ceremony was somewhat light on that front too. Kimmel made a few Trump-related jokes — at one point he tweeted to the president and asked, "u up?" — and presenter Gael Garcia Bernal spoke out against the proposed Mexico border wall. Filmmaker Asghar Farhadi, who directed the foreign language film winner The Salesman, boycotted the ceremony because of Trump's Muslim travel ban, and a pointed political statement was read by Iranian-American engineer Anousheh Ansari in his absence. Meanwhile, the winners in the major Oscar categories avoided wading into the Trump thicket. Even Casey Affleck, who made a point of condemning the administration's policies during his acceptance speech at the Independent Spirit Awards on Saturday, said nothing remotely political when he won his Oscar for Manchester by the Sea. "I wish I had something bigger and more meaningful to say," he said, even though he had just said something bigger and more meaningful 24 hours earlier.
Ultimately, the most gasp-inducing moment was the one that no one could have seen coming, which many viewers may not have seen at all because the Oscars spent too much time trying to orchestrate surprising moments.
What the Oscars producers need to do is streamline. Keep the introductions of every award much more brief. (It is perfectly fine to say, "I am here to present the award for best production design. The nominees are …" Honestly, we don't need to hear anything else.) Give the host three to five windows of time to do some bits, but no more than that. Keep the planned schedule tight in order to leave ample room for the legitimately spontaneous moments that are bound to unfold. We're not going to see another "What the what?" level shocker like the La La Land–Moonlight switcheroo, which, for the record, was handled with enormous grace by the teams behind both films, even though both got shortchanged as a result. Many years, there won't be any surprises at all.
In short, I'd rather watch a tight, not-so-surprising Oscars than an overly long one that tries so hard to spontaneously delight the audience that it deprives them of what turned out to be the most wowza Oscars' ending ever.