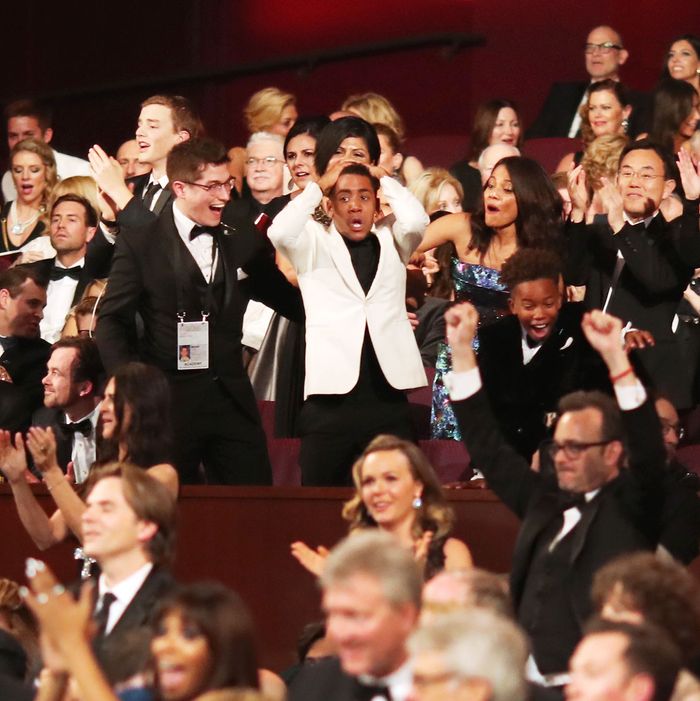 Is someone in the crowd the only thing you really see?
Photo: Christopher Polk/Getty Images
"Moonlighting" is already a verb, and also the name of a TV show that starred Bruce Willis. But if it wasn't already either of those things, then "Moonlighting" would be a great new way to refer to what happened at the Oscars last night. As in, after La La Land seemed to win Best Picture, it was revealed that Moonlight had actually won. Damien Chazelle's musical got Moonlighted — or simply, it was Moonlit.
The casts of both films were shocked. The producers were gracious. The accountants are probably fleeing the country. And those in the audience? Well, just look at this glorious tableau.
First, let's break down this beauty from the L.A. Times:
David Oyelowo: "Oh my."
Casey Affleck: "Quick, hide behind the camera. They'll never meme us."
Mel Gibson: "Oh boy, oh boy. Did I win?"
Matt Damon: "Abort!"
Michelle Williams: "Here's to the fools who dream."
Busy Phillips: "Foolish as they may seem."
Lucas Hedges: "Man, remember that boat we had in Manchester by the Sea? Good boat."
Salma Hayek: "Get me out of here. Get me out of here. Get me …"
Sting: "All proceeeds according to the grand design."
Ben Affleck: "Matt, what do I do? How do I react? Matt? Matt? Can you hear me? Matt?"
Meryl Streep: "What ho!"
Dwayne "the Rock" Johnson: "WHAT! I mean, sorry, WHAT!"
And second, this look from the New York Times.
We're not going to bore you with a whole new rundown. We just want to highlight two key faces: Charlize Theron's, in utter shock, and David Oyelowo's, which has progressed from "oh my" to "oh, myyyyyyyyyy."