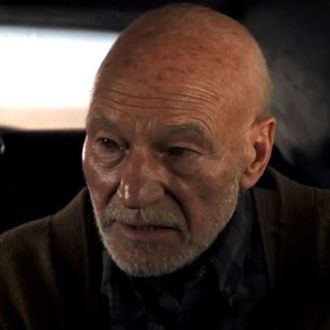 While Hugh Jackman revealed from the get-go that Logan would be his last entry in the X-Men universe, leaving the star to hang up his Wolverine claws before his veins went ahead and burst, Patrick Stewart has spent the Logan press tour remaining coy about the same. Now, though, he's ready to reveal that his tenure as Professor Charles Xavier is over. Turns out, his hedging came less from secrecy than uncertainty, as Stewart shared his recent decision on a SiriusXM Town Hall. Speaking of himself, Jackman, and Logan co-writer James Mangold, Stewart explained:
A week ago, Friday night in Berlin, the three of us sat, watching the movie … And I was so moved by it, much more moved than I had been the first time of seeing it. Maybe it was the company of these two guys, but the movie ended and — this is an admission — but at one point [Hugh] reached out, and he took my hand in those last few minutes, and I saw him go [mimes wiping a tear from his eye] like this, and then I realized I had just done the same thing … I realized there will never be a better, a more perfect, a more sensitive, emotional, and beautiful way of saying au revoir to Charles Xavier than this movie. So, I told [Hugh] that same evening, 'I'm done too. It's all over.'
It seems that the trick to a never-ending superhero franchise is making your movies good enough that you don't want to dump your star but not so good that your star dumps you. Mediocrity in superhero movies? A novel thought.