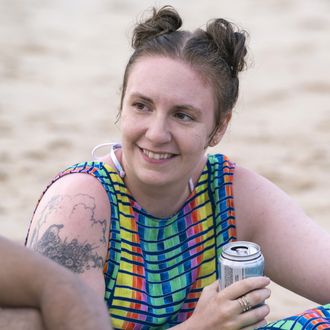 Now we want to read Hannah Horvath's pitch for her own show.
Photo: HBO
If you're ever pitching a show to HBO, maybe don't do what Lena Dunham did to sell Girls. The Hollywood Reporter has put together an oral history of the show, in which Dunham describes how, after the success of her first feature Tiny Furniture, she went to HBO with a pitch that neglected to mention plot or characters, and simply described the show as "a tone poem about millennial life." "I mean, it's the worst pitch you've ever read — pretentious and horrifying," Dunham said of her idea, "but I remember writing it, sitting on the floor listening to Tegan and Sara in my underwear, being like, 'I'm a genius.'"
You can read the pitch in full at the bottom of THR's article, but for those curious about what that "tone poem" might entail, here are a few choice selections. Dunham's introduction goes for the obvious comparisons to Sex and the City and Gossip Girl:
Sex and the City depicted women who had mastered their careers and were now being driven crazy by the tick of their biological clocks. Gossip Girl is about losing your virginity and gaining popularity, in a world where no one is old enough to vote or has to worry about making a living. But between adolescence and adulthood is an uncomfortable middle-ground, when women are ejected from college and into a world with neither glamour nor structure. The resulting period of flux is heartbreaking and hilarious and way too much. It's humbling and it's sexy and it's ripe for laughs.

Products of the recession, these girls are overeducated and underemployed, sure that they're too smart for their positions as assistants, nannies, and waitresses but not necessarily motivated enough to prove it (or even do their jobs well enough to advance). They have that mix of know-it-all entitlement and scathing self-deprecation that is the mark of all great Jewish comedians and many 24-year-old women with liberal arts degrees.
Later in the pitch, she mentions a few anxieties that became crucial to some of the show's characters.
They're the last children of baby boomers, and the first generation to have moms who know how to text message ["HAVE U HAD AN HPV VACCINE YET? DO U HAVE HPV? LUV, MOM"] These moms probably enjoyed more swinging sex lives in their twenties than their daughters could ever dream of.
Hey, maybe this is about Elijah.
Some of their boyfriends have turned out to be gay. Others have turned out to be Republicans (these girls aren't necessarily political, but they want to make sure abortions are a possibility. Always. After all, who can remember condoms every time.)
And this is some foreshadowing to season 4.
Grad school is their fall-back plan.
As Dunham concludes, the real focus of the pitch lies in the fact that this is a story that nobody is telling yet, and nobody could tell as well as she wants to.
They are navigating the transition out of college-level codependence on their girlfriends, but will still call to announce that they got their period or saw a man masturbating on the subway or saw a man who looks sort of like a kid they went to camp with (could it be him? And if so, is he on Facebook?)

They're beautiful and maddening. They're self-aware and self obsessed. They're your girlfriends and daughters and sisters and employees. They're my friends and I've never seen them on TV.
Casey Bloys, former HBO comedy head, told THR, "there wasn't a formal pitch, but because of Tiny Furniture, we all felt we had this very good blueprint for what a show might be," which sounds like a nice way of saying they didn't read the pitch at all.