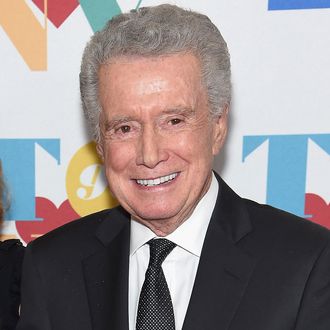 Photo: Jamie McCarthy/Getty Images for RPM
When Regis Philbin and Larry King met up to reminisce about their old TV days, Regis lamented that he'd been cast aside from Live! With Kelly after he left the show to retire. His old co-host took his exit personally, he said, and they haven't spoken. "Did they ask you to go back even for a day?" King asked, concerned. "Never once did they ask me to go back," the longtime Live! host said. Fact check: Well, not exactly. Regis actually has been asked back several times, an ABC exec told Page Six, but he turned them down. At least one time, though, he returned: Regis appeared on the show's Halloween special in 2015. He and Kathie Lee Gifford both returned to their stomping grounds to shoot a throwback dream sequence in which they were back to their big hair days in 1992. Kelly greeted him with a kiss:
After taping the segment, behind-the-scenes footage shows Regis taking a tour of the studio and complimenting the improvements.
So Regis has been invited back, and was greeted with open arms. His successor Michael Strahan, however? Probably not so much.