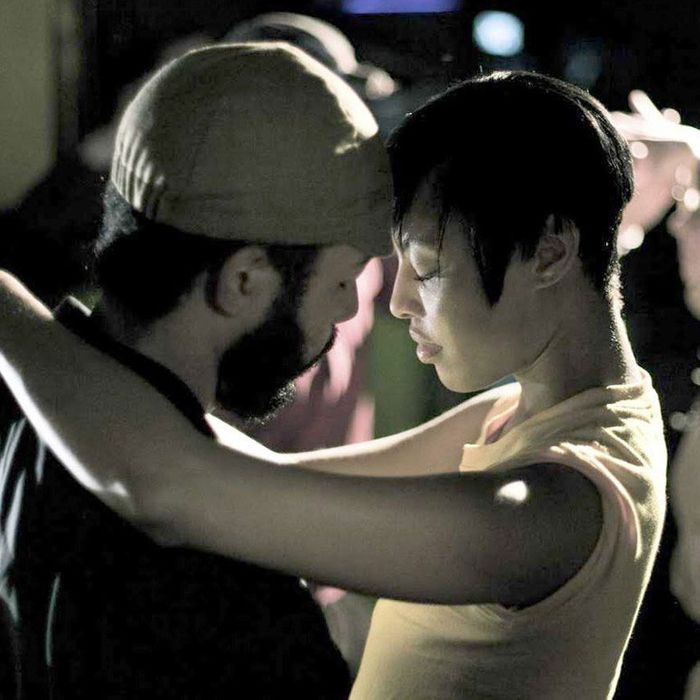 Medicine for Melancholy.
Photo: Strike Anywhere
Last night, Moonlight, a tiny, beautiful film with a $1.5 million budget, won Best Picture at the Oscars. For many in Hollywood and around the country, the film seemed like it came out of nowhere. But for fans of director Barry Jenkins's first film, Medicine for Melancholy, seeing Jenkins onstage winning Oscars for his second feature wasn't surprising. The only surprise was that there were nine years in between them.

If you haven't seen Medicine for Melancholy yet — and it's a safe bet you haven't, since the movie made only $111,000 in its initial theatrical run — I've got two pieces of good news. One, it's great and you should absolutely watch it. Two, watching it is easy since it's streaming on Netflix. With a cast comprised of Wyatt Cenac and Tracey Heggins, and only Wyatt Cenac and Tracey Heggins, the 2008 mumblecore-ish film takes place over the course of one San Francisco day. Similar to Richard Linklater's Before series, Cenac and Heggins play two people who spend a day together after what was supposed to be a one-night stand the night before. Their romantic arc ebbs and flows as they discuss black identity, hipsters, and gentrification. (Originally, Jenkins considered making the female lead white, but realized it would be more interesting to show two black characters on different sides of the identity-politics debate.)
Medicine for Melancholy is a very different movie than Moonlight — it's ostensibly a comedy — but they're unmistakably made by the same director. Shot for only $15,000, Medicine for Melancholy is as visually stunning as Moonlight is, with Jenkins draining his images of color to create an unusual near-black-and-white aesthetic that changes along with the characters. And the films relate thematically in an interesting way. Both Moonlight and Medicine for Melancholy play with time as it relates to romance and identity, but the proportions are different. One last similarity: They both prominently feature the letter "M" in their titles.
Winning a Best Picture Oscar on your second film may be symbolic, but moments like that have a way of putting a director up there with the greats. Barry Jenkins has only begun to build his canon, but to fully appreciate his future work, you'll have to see where it started.