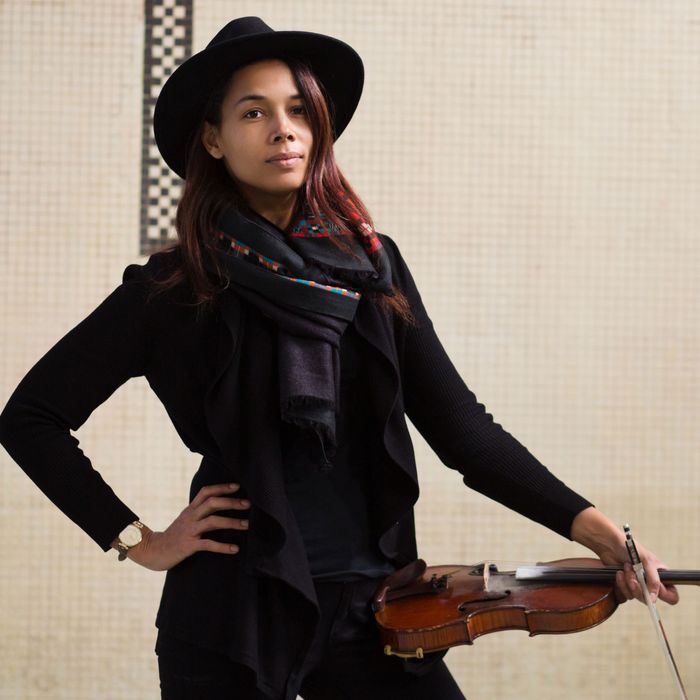 Rhiannon Giddens.
Photo: Tanya Rosen-Jones
Last fall, the strands of singer Rhiannon Giddens's life and the hybrid tapestry of American music wound together in one evening-long whirl. At 5 p.m. she joined Eric Church to sing the country anthem "Kill a Word" on The Tonight Show. Then she rushed to Merkin Hall to give a recital that hopscotched from staples of black Broadway to Richard Strauss's gossamer "Morgen" and ended with Giddens's own slave ballad, "Julie." Black and white song, elevated and popular, spiritual and profane, hoary and new, activism and entertainment — all these categories dissolved in the simple ritual of a barefoot musician singing and plucking a banjo. "I thought, This is what it means to be a musician in 2016!" she says.
What that means for her six months later — a few days after her 40th birthday — is the release of Freedom Highway, a Nonesuch album of mostly new songs that sound as though they have existed for ages. The tunes seem to slip from one musical habitat to another — a Cajun shack, an after-hours club, a Southern porch — but an undercurrent of elegant anger runs through all. "At the Purchaser's Option" cycles four times through a lilting, leaping phrase before charging into a chorus full of quiet confrontation:
You can take my body,
You can take my bones,
You can take my blood,
But not my soul.
Giddens came to prominence in the Obama years and today you couldn't ask for a more potent whiff of nostalgia than the clip of her rattling the White House rafters with Sister Rosetta Tharpe's "Up Above My Head," with the president and First Lady singing along. If it's hard to imagine the current occupant of the Oval Office joining in a gospel shout, the new political climate has sharpened Giddens's sense of mission: to preserve the painful history embedded in America's forgotten music.
In conversation she comes off as subdued and serious, a highly trained pro with a scholarly bent. Onstage, though, the voltage courses visibly through her and emerges in a galvanized beam of sound. In 2015, she jolted the Americana Music Awards when she belted out "Waterboy," which Paul Robeson and later Odetta made famous with her ringing trombone of a voice. Giddens has the lung power to hold her own with the legends, but she also pilots her voice through a sequence of vocal shades and colors that makes the song less of an epic, private howl than a sophisticate's showpiece. She comes to folk music with an opera singer's range, the technique to make her instrument ring without a microphone, and a thorough grasp of its variety. She can pass from a fierce growl to an intimate croon, and on to what bluegrass singers call a high lonesome sound, all without obvious effort.
Depending on the topic, Giddens drifts in and out of a soft, y'all-filled lilt, and the shifts in her speech reflect a fluid sense of identity. Born in Greensboro, North Carolina, to a black mother and a white father — not a common match in the South of the early 1970s — she took her time sorting through possibilities. "Being mixed in the South, that's a struggle that everybody deals with differently. Some people go careening to one side or the other, and some people try to walk a tightrope between the two. I grew up spending equal time with both sides of my family."
She grew up with an eclectic soundtrack, too. A cassette tape made from a scratchy Tom Lehrer LP inducted her into the world of funny, biting political wordplay, and led her right to Sondheim. Her parents were divorced, so seeing family meant shuttling between races, traditions, and rural areas. And yet those legacies often overlapped. Her mother treasured her records of the classical guitarist Andres Segovia and the memory of her ex-husband singing Schubert. Giddens remembers listening to her black grandmother singing along to her blues records, but then switching on Hee Haw every Saturday. By the end of high school, though she couldn't read music and had spotty technique, Giddens managed to get herself into Oberlin's well-known music school — as an opera singer.
It was a decision she questioned only years later. While the music bewitched her, the apparatus of operatic life always seemed strange and artificial: all the makeup, elaborate costumes, and standard audition repertoire, all the waiting to be picked. After graduating, Giddens returned to Greensboro, started contra dancing and took up Celtic songs (for which she learned Gaelic). She also immersed herself in old-time music, a vague term for a complicated tradition. Plantation slaves used the banjo and fiddle to provide music both for the white masters' dances and their own, Giddens explains. Scottish and Irish folk tunes merged with African melodies, and only the advent of a commercial music business divided these mingled traditions into white and black music: bluegrass and the blues. (Hybrids and ironies continued to permeate even the most racially resonant American music. "Waterboy," for instance, has the grittiness of an traditional slave song but was actually composed in the 1920s by a former Juilliard student names Jacques Wolfe who, The New Yorker reported in 1933, startled an unsuspecting sheet-music publisher "by turning out to be a little, baldish, birdlike, Roumanian Jew.")
Giddens's preservationist instincts led her to co-found the Carolina Chocolate Drops, a trio that revived the music of black string bands like the Mississippi Sheiks and the fiddler Joe Thompson, who died in 2012 at 93. "When you sit at the feet of an elder, it changes you," she says. "We met Joe when he was 86 and we would go down to his house on Thursday night and sit in his house and we'd just play the same tunes over and over again and that was the old way of teaching. When you get it right you just keep going and when you don't, he'd stop. And you just have to figure it out. You absorb all of that. When you feel the weight of the history and this living person who's in a long line of community music makers, it reminds you of the realness."
Such slow-simmered authenticity can be hard to come by in the life of a modern professional musician. Giddens married an Irishman and now shuttles between Limerick, where her two children (4 and 7) go to school, and her house in Greensboro, where she goes to regroup and repack. Opportunities and disappointments make it hard to have a plan. Last May, she was scheduled to step into the lead role in the Broadway production of Shuffle Along when Audra McDonald announced she was pregnant. Giddens withdrew from the rest of her musical life, laid off her crew and her band, cleared the year of her schedule that lay ahead, and threw herself into a new set of skills: learning to tap dance, internalize a character, speak lines, and command a big, busy stage. "It was the coolest Broadway boot camp you could possibly have and I got paid to do it," she says, trying to recapture the enthusiasm of that period. The producers allowed her a week's furlough to record Freedom Highway in a set of intense, necessarily efficient sessions. But by July they decided that the show couldn't survive McDonald's absence, and they shut it down even before Giddens had a chance to start run-throughs. Her big break went bust. "It was horrible," she says, falling into a momentary stammer at the memory.
There wasn't much time to wallow. A few days after the fiasco broke, the TV show Nashville came calling with an offer to join the cast. And besides, Freedom Highway still needed plenty of work. "The show and the record, they saved my life," she says. Careers don't move in straight progressions, but every step is a learning experience that contributes to the music. "All you can do is immerse yourself in it completely, and then it comes out in ways you don't control."