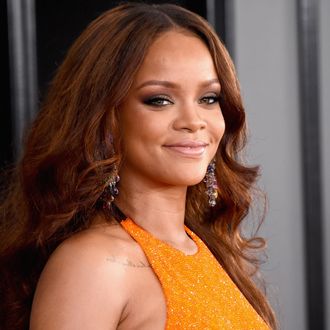 Rihanna celebrates turning 29 by getting her 30th Top 10 hit, natch.
Photo: Frazer Harrison/Getty Images
Rihanna can now officially say she has more Top 10 hits than years she's inhabited this planet. A day after turning 29, she's been gifted with her 30th Top 10 hit for "Love on the Brain," which reached No. 8 on this week's Billboard Hot 100. And just as she left the Beatles in the dust last year with the record for second-longest at No. 1, she's waving sayonara to another legend: Her 30 hits now beats Michael Jackson for third place on the all-time list, putting her close behind Madonna and the Beatles. (She just needs five more to pass the Beatles again and nine more to break Madonna's record 38.) Look, Rih even brought a friend to celebrate: Katy Perry's new performative woke-pop single "Chained to the Rhythm" has debuted at No. 4, her 14th Top 10 hit, though not her highest. And in stranger chart-history news, the Chainsmokers now hold the record for the longest Top 5 hit ever. "Closer" has spent a total of 26 weeks in the Top 5 — it was on a No. 1 streak way back during the election — passing "Uptown Funk!" and LeAnn Rimes' "How Do I Live." How will we ever live with this information?