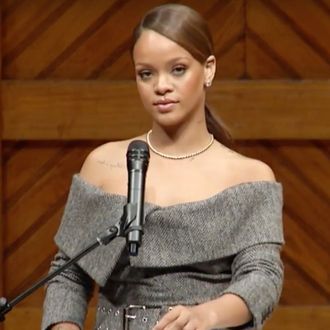 Rihanna at Harvard University.
On Tuesday, the Harvard Foundation for Intercultural and Race Relations honored international celebrity and generous person Rihanna with the 2017 Harvard Humanitarian of the Year Award. During the ceremony, various speakers acknowledged the singer's efforts to help the world, from her push to include more black voices in feminism to her humanitarian projects that help women with breast cancer receive treatment in her native Barbados and scholarship funds for students from Caribbean countries seeking a college education in the United States. Rihanna accepted her award and began her speech with a humble joke, "So I made it to Harvard. Never thought I'd be able to say that in my life, but it feels good."
The "Diamonds" singer went on to explain her early interests in helping others, dating back to her childhood when she would see impoverished children from Africa on television. "I would say to myself, 'When I grow up and I get rich, I'm gonna save kids all over the world,'" Rihanna said. "I just didn't know I would be in a position to do that by the time I was a teenager." Still, just because she was able to financially back various philanthropic missions, she thought the rest of us normals could be just as successful at changing people's lives without deep pockets:
All you need to do is help one person, without expecting anything in return. To me that is a humanitarian. People make it seem way too hard, man. What that little girl watching those commercials didn't know is that you don't have to be rich to be a humanitarian, you don't have to be rich to help somebody. You don't have to be famous, you don't even have to be college educated … My grandma used to say, 'If you have a dollar then you have plenty to share.'
Watch the full speech below. Rihanna's remarks begin around the 1:16 mark.