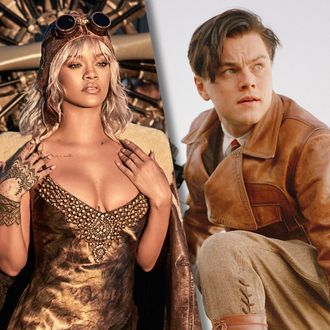 So many layers to unpack here.
Photo: Mariano Vivanco/Harper's Bazaar, Miramax
For a brief moment in time, Rihanna and Leonardo DiCaprio had, by definition, a thing. They spent time in Leo's natural habitat – the club – went to Coachella together, and Leo is said to have once helped plan her birthday party. It was all very hush-hush. There's been no news on that front of late, but what we do have now is an entire spread in which Rihanna channels Leo in The Aviator. For Harper's Bazaar's 150th anniversary issue, the magazine had Rihanna interpret Amelia Earhart's fashion sense in a photoshoot that imagines Rih as queen of the skies. ("There's something so special about a woman who dominates in a man's world," Rihanna says of why she agreed to the shoot.)
Instead, she used the moment to stage something miles higher: an elaborate homage to Leo's Howard Hughes biopic because Rihanna, too, would like a date with Oscar. If ever there's a reboot of the film (why the hell not?), let these photos serve as proof that she should star. And let it also be known that she'd probably win her Oscar on first try. Someone check on Leo's pulse.