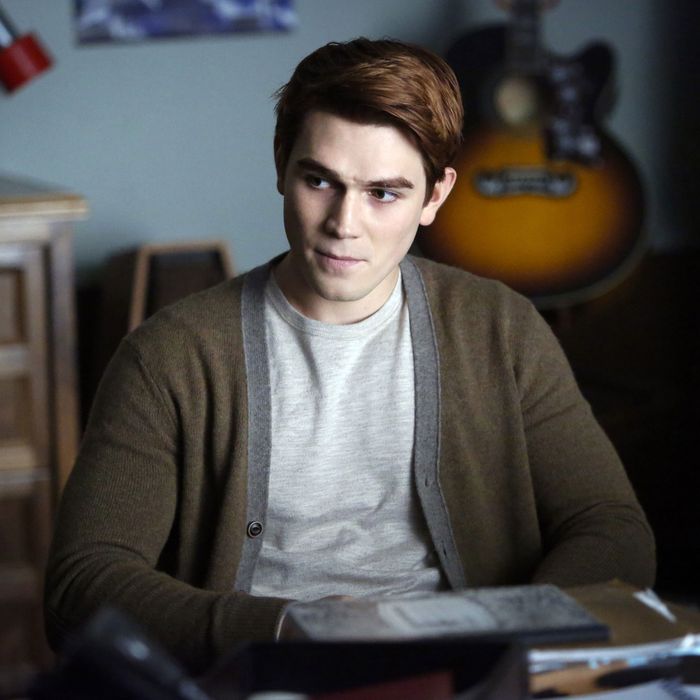 K.J. Apa as Archie.
Photo: Bettina Strauss/The CW
Welcome to the Blossom family's mansion, a spiffed-up Grey Gardens crossed with Addams Family Values. The estate is called Thornhill (which is probably a nod to Roger Thornhill, Cary Grant's character in North by Northwest), because you're only truly rich once your house has its own name. Not to mention its own graveyard.
In a dream sequence that looks straight out of Crimson Peak, Cheryl — wearing a floor-length scarlet nightgown and clutching a candelabra — finds Jason's casket empty, with bloody fingernail scratches in the lid. Her twin brother's reanimated corpse, looming behind her, reaches for Cheryl's neck. She wakes with a start. She fell asleep on Jason's bed (just in case you are one of three viewers who hadn't picked up on the twincest subtext yet!) while she was working on his eulogy. But when Mrs. Blossom is concerned her daughter will "humiliate" their family, so she crumples Cheryl's notes into a ball, forbidding her to speak at Jason's upcoming memorial. Why is every mom on Riverdale so menacing?
Meanwhile, Archie works out on a punching bag in his bedroom, producing a full SeaWorld Splash Zone's worth of six-pack sweat. He tells his dad he's redoubling his focus on football, because if he can become captain, he can get a scholarship — and at college, he can study music all he wants. (Maaaaaybe also a factor: Archie's music teacher, Miss Grundy, was run out of town for statutory rape.) But at football practice — where the soundtrack is a disorienting mix of horror-movie synth and tracks that might as well have been lifted directly from the Friday Night Lights score — Coach Clayton pits Archie and Reg against each other to compete for the captain spot.
When the Kellers' house was trashed in last week's episode, the culprit lifted all the police files and interview recordings related to Jason's death, so Kevin, Jughead, and Betty are now doing their best to re-create the sheriff's "Jason Blossom murder board," an excellent name for a pop-punk band. Betty asks her dad about her sister Polly, a no-go topic with Mommie Dearest Cooper, who's away at a spa retreat for women in journalism. (Hello, does this exist, and if so, who will be my Medici-style patron?) Hal explains what he knows: After a devastating fight with her then-boyfriend Jason, Polly locked herself in the bathroom and attempted suicide. Really? And no one thought to tell Betty about this? This entire town needs counseling.
Pussycat Valerie tells Archie about Oscar Castillo, an "amazing songwriter from New York" and adjunct at nearby Carson College. She says Oscar could be a great mentor for his music, and in fact, she took the liberty of passing his name along. However, Oscar sniffs at Archie's paltry two-hours-a-day commitment to songwriting and his distracting football practice schedule. He demands Archie bring in sheet music, and when he does, Castillo dismisses the work as "sloppy." But on the bright side, he listened to Archie's songs, and he thinks they're … oh. He thinks they're "repetitive" and "juvenile." This is not going well. Oscar speculates that Archie's previous music teacher (ahem) must have connected with him (ahem) in a way that he can't.
Cheryl unexpectedly invites Veronica to a sleepover the night before Jason's memorial, which, as an added bonus, comes with a free gothic family dinner with the Blossoms. We meet elderly Aunt Rose, who — while distinguished by her pink highlights and cataract — is more or less a live-action version of Puppazza from Unbreakable Kimmy Schmidt.
By bedtime, Cheryl has changed into a sleep-choker and stilettos. Veronica, wearing what I am pretty sure is the exact deep-blue metallic American Apparel skater dress I bought in 2009, has upgraded to an even more elaborate pearl necklace than the one she wore at dinner. This is a formal sleepover. Cheryl explains that she invited Veronica because, during her panic attack at the pep rally, it was V who took care of her, not any of her so-called "besties."
Alone at the diner, Hermione Lodge discovers a mysterious cardboard box left out for her on the floor. Inside, there's a very scary, very coiled snake, and not, as pop culture has conditioned me to expect, Gwyneth Paltrow's head. Fred Andrews — who would still very much like to date Hermione, please — races to her aid. After he dumps the snake somewhere outside (where, exactly, in Riverdale is that thing's natural habitat?), Hermione explains why she called him rather than the cops: namely, because this was a message from the Southside Serpents.
Although this interaction should only leave Archie's father more convinced that Hermione, what with all her unsavory associations, is not an ideal employee, the heart wants what it wants, and what it wants is to make a terrible business decision. Fred tells Hermione that the bookkeeping job at his company that she'd asked about is hers. She hugs him; he sniffs her hair like a creep.
The Blossoms have, naturally, invited the people they most suspect in relation to their son's murder — the Coopers, the Lodges, pretty much everyone they've ever met — to attend his memorial. Cheryl appears in a glorious all-white ensemble and matching fascinator, looking a little like she's about to marry her dead twin. This, you see, is the dress she wore the last time she saw Jason. As her mother writhes with displeasure in the front row, Cheryl eulogizes her brother as she sees fit. It involves a lot of weeping.
"I think we'll adjourn now, to the winter salon, for a light supper," announces Mrs. Blossom with a prim fury, having apparently reached the Light Supper in the Winter Salon stage of Kübler-Ross's model of grief. Upstairs in Cheryl's bedroom, mother and daughter have an ugly confrontation, with Penelope — who openly blames Cheryl for Jason's death — banning her from her beloved River Vixens.
Betty and Jughead sneak off to search for clues in Jason's room, where they encounter Aunt Rose, lurking in a dark corner in her wheelchair, as one does. Mistaking Betty for her sister Polly, Aunt Rose reveals that Polly and Jason were secretly engaged, with an heirloom ring courtesy of the eldest Blossom family member herself.
At the memorial, Archie presents his folded football uniform to Mrs. Blossom, effectively retiring Jason's number. This gesture inspires Coach Clayton to name him the new team captain, but Archie declines. He loves football, but Reg will be able to give the team his everything. Archie can't, because music. After a pep talk from Valerie, he's feeling newly motivated in spite of Castillo. (It helps that Val is very cute.)
Betty discovers that her father already knew that Jason and Polly had been engaged, and that he has a bomb of his own to drop. Cheryl's great-grandfather murdered Betty's great-grandfather — the two men were in the maple-syrup business together — begetting a generations-long feud. This is perfect, because I was just thinking: I wish this show had even more layers of insane and implausible drama. Riverdale, you complete me.
In the last moments of the episode, we see Mr. Cooper handling a stolen police file — so that's who broke into Sheriff Keller's house. Ladies, gentlemen, snakes in boxes? We've got a new suspect.