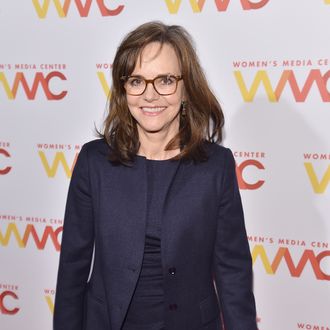 Sally Field.
Photo: Mike Coppola/Getty Images for The Women's Media Center
Another awards season, another opportunity to fight the patriarchy on the red carpet. At least, that's the view of filmmaker Jennifer Siebel Newsom, whose 2011 documentary Miss Representation — and her subsequent Representation Project — spurred a movement of "asking women more" on the red carpet. That is, asking them anything other than "Who are you wearing?" Since its inception, #AskHerMore, and the project's attendant call for better representation of women in Hollywood on the whole, has become a forceful reminder of the banal sexism prevalent in Tinsel Town. Given that sexism still very much exists, this year's campaign has increased its profile by adding a slate of award-worthy ambassadors, according to The Hollywood Reporter.
The ambassadorial rank includes rabble-rousing actors Rosario Dawson, Sally Field, and Orange Is the New Black and How to Get Away With Murder's resident woke bae Matt McGorry, among others (McGorry's OITNB castmate Taylor Schilling is also involved). The ambassadors are a human reminder that representation is about more than just being seen, it's also about demanding to be heard, on the red carpet and otherwise in the industry. "I've been in Hollywood a long time and it hasn't changed as much as you would think," says Field. "But there are some bright lights — and one of them is the work of The Representation Project." Watch for Field and friends starting this Sunday during the Oscars, and see for yourself if more is being asked of them, and every other woman, than just identifying what gown they're in.