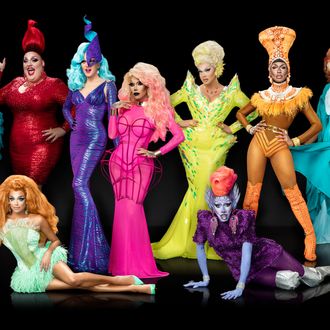 The season nine cast of RuPaul's Drag Race.
Buck up, racers, because Mama RuPaul isn't going to abandon you in your time of need: RuPaul's Drag Race is back for its ninth season. Once again, the producers at World of Wonder have assembled 13 of the most sickening drag queens to compete for $100,000 and the title of America's Next Drag Superstar. Here's the first look (ahem, lewk) at the contestants as they try to out-pose each other in their class photo, along with a video promo for the new season.

But of course, all of these queens have Instagram accounts, so here's a first look at what they think is good enough to post for the entire world to judge. Open your Twitter accounts, because the library is open.

First up is Aja who hails from Brooklyn, New York.

Alexis Michelle from New York City.

Charlie Hides from London, England.

Eureka O'Hara from Johnson City, Tennessee.

Farrah Moan from Las Vegas, Nevada.

Jaymes Mansfield from Madison, Wisconsin.

Kimora Blac from Las Vegas.

Nina Bo'nina Brown from Atlanta, Georgia.
Peppermint from New York City.

Sasha Velour from Brooklyn.

Shea Coulee from Chicago, Illinois.

Trinity Taylor from Orlando, Florida.

Valentina from Los Angeles, California.