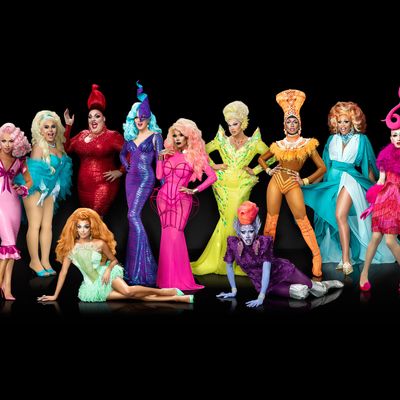 The queens of season nine.
Photo: Logo
The United States government might be lip-syncing for its life, but RuPaul's Drag Race is here to stay. Ahead of the ninth-season premiere of the Logo reality series, the 13 queens vying for $100,000 and the title of America's Next Drag Superstar already seem like the show's most impressive yet. To help you figure out which queen to root for, Vulture did the early prep work to determine who is the most — and least — likely to take home the crown. Will it be Aja? Peppermint? Shea Couleé? Let's begin.
Aja
This 22-year-old Brooklyn queen, who got her name from a song featured in the 1982 Bollywood film Disco Dancer, draws on a broad range of pop-cultural references to describe herself — "slutty anime girl," "Gaultier meets Mugler meets, like, furry monsters but pastel" — but even those fail to capture her range as an entertainer. The mother of the Haus of Aja is a tight lip-syncer, handling everyone from Busta Rhymes to Diva Plavalaguna with ease, and embodies a degree of control in her live performances that few queens can claim. There's a reason she won Drag Queen of the Year at the 2016 Brooklyn Nightlife Awards, not to mention the title of Mr(s) Williamsburg in 2014.
Strengths: Her makeup is flawless, her styling is on point, and her aesthetic is distinct. (Pay no attention to the Naomi Smalls comparisons behind the curtain!) She can dance. She can choreograph. She can even death-drop if she has to. In short, Aja's got a lot of strengths.
Weaknesses: Not sure how she'll fare in the acting and singing challenges, or the impersonation-based Snatch Game. Also, she said she's "not competitive" in her Meet the Queens video, which could hold her back.
Odds she'll win: 5–1
Odds Carson Kressley will misuse the word "Harajuku" to describe her runway looks: Even
What to watch: Her Diva-level Fifth Element number.
Alexis Michelle
The 33-year-old New Yorker claims that her biggest competition is herself, and that just might be true. She can act, she can dance, she can sew, and she even sings well live. (Not always a given when it comes to Ru girls who "sing.") If she can find a way to keep her Broadway references and onstage looks fresh, this unexpected stunt queen could be the one to beat.
Strengths: Singing (she'll be a major contender in any musical challenge), dancing (she can do the splits!), acting (possible Snatch Game winner?), and creating a look (the makeover and sewing challenges won't pose a problem for her).
Weaknesses: Her runway will be good, but probably not gag-worthy.
Odds she'll win: 5–1
Odds she'll sing in the workroom without violating song copyright: 10–1
What to watch: Alexis does Elaine Stritch proud with "Ladies Who Lunch."
Charlie Hides
At 52 years old, the Boston queen by way of London is the oldest to ever compete on Drag Race. Charlie used to perform in blackface as a character named Laquisha Jonz, but she retired the character in 2015 following public outcry. Apparently, however, she still thinks that people are "too sensitive about all sorts of issues, including race."
Strengths: She can sing live and has a number of celebrity impersonations under her belt, including Lana Del Rey, Madonna, Cher, and Liza Minnelli.
Weaknesses: She performed in blackface as recently as 2015, which means that her taste and inclinations are extremely suspect. But RuPaul has defended white queens who perform in blackface, so who knows.
Odds she'll win: 25–1
Odds someone on Twitter will defend her use of blackface: Even
What to watch: If you want to judge Charlie's blackface act for yourself, here it is. Otherwise, try her celebrity impersonations.
Eureka O'Hara
"I like to push the boundaries and the molds that the bigger communities have been given," Eureka says in her Meet the Queens video. Exhibit A: this high kick. Exhibit B: this high kick into a split. The 25-year-old Tennessee native is definitely pushing boundaries, but she doesn't exactly break new ground with her pageant glamor aesthetic. Nevertheless, she's motivated: She says she's got a "flame under my ass for a fat girl to finally win this fucking competition." Keep an eye out for Ms. O'Hara.
Strengths: She's a Virgo, her makeup is flawless, and, much like Sally O'Malley, she likes to kick.
Weaknesses: It's unclear how this Southern beauty will fare in the acting and comedy challenges, much less the Snatch Game.
Odds she'll win: 12–1
Odds she'll be the first to drop into a split on the main stage: 4–1
What to watch: This high-energy Britney routine.
Farrah Moan
A 23-year-old Vegas entertainer, Farrah says she's inspired by fetish wear, showgirls, and Old Hollywood, though she doesn't exactly sell it in her Meet the Queens video. Still, Farrah's styling is on point, her makeup is a vision of highlighter heaven, and she'll bring one of the strongest runways to season nine. It's unclear how far she'll be able to go, but she's beautiful.
Strengths: Her looks are polished, her makeup is beautiful, and she'll be a major contender in the makeover challenge if she can translate her signature mug to another person's face.
Weaknesses: Farrah's lip-syncing and live performances don't feel as grandiose as her showgirl-inspired styling, so she'll be in trouble if she lands in the bottom two. Although she looks eerily similar to Christina Aguilera circa Burlesque, it's not yet known how she'll fare in the Snatch Game, much less the acting and comedy challenges.
Odds she'll win: 15–1
Odds Michelle will say she's "resting on pretty": 5–1
What to watch: Her Showgirl-meets-Aphrodite Kylie Minogue moment.
Jaymes Mansfield
This 26-year-old Milwaukee queen knows her stuff. Among her dozens of YouTube videos, you'll find everything from a "Drag Herstory" lesson on drag queen comedians to a DIY wig-styling tutorial. Given all that, it's fair to assume that Jaymes will slay the sewing challenges — particularly the one that involves unconventional materials — but her Meet the Queens video sent up a bit of a red flag. She jokes that she's "walking art" like Vivacious, but that unlike the season-six club kid, she says she's "pretty." That crack isn't the kind of thing a confident competitor would say about another queen, much less a queen on another season.
Strengths: Her sewing abilities, puppetry prowess, and overall craftiness will be assets to Ms. Mansfield …
Weaknesses: … if she doesn't trash talk the wrong girl first.
Odds she'll win: 12–1
Odds she'll hit confessional one-liner gold: 3–1
What to watch: This DIY purse tutorial.
Kimora Blac
From her constant bragging ("Straight guys love me, gay guys love me, drag queens love me. I'm a really hot guy") to her complaints about her competition ("Some of the queens are busted"), it's easy to want to hate on Kimora Blac. But as her live performances attest, this 28-year-old Vegas entertainer has the goods to back up her attitude.
Strengths: Farrah's hot, she's polished, and she can even sustain the energy on a mid-aughts pop banger like "Buttons" from start to finish.
Weaknesses: We have no idea how she'll do in the acting and comedy challenges. Plus, it seems like she might get the villain edit this season.
Odds she'll win: 10–1
Odds she'll make good use of the shady rattlesnake sound effect before RuPaul even enters the workroom: 3–1
What to watch: Her take on Kelis's "In Public."
Nina Bo'nina Brown
Nina is one of the most innovative queens in Drag Race herstory. Her approach to makeup, which has already earned her more than 34,000 followers on Instagram, is more illustration than illusion. It's very cartoony, expanding the second dimension into the third with every new look she embodies. Nina also seems very comfortable on camera, which will serve her well in the acting, comedy, and interview challenges.
Strengths: Makeup, body-painting, charisma, and comedic timing. Most of all, a unique point of view when it comes to drag.
Weaknesses: Will her unique look be too extreme for the judges? That's hindered queens in the past, especially when that look proves inflexible. (See: Max on season seven and Milk on season six.) If Nina doesn't show versatility, she might be in trouble.
Odds she'll win: 10–1
Odds another queen will come for her drag: Even
What to watch: This retro jazz lip-syncing to a remix of Kay Starr's rendition of "I've Got My Love to Keep Me Warm."
Peppermint
Peppermint is a drag icon in New York, running in the same circles as Sherry Vine, Lady Bunny, Bianca Del Rio, Epiphany, and Hedda Lettuce. She's an experienced parodist, an excellent live singer, a skilled dancer, a consummate professional, and an all-around entertainer with a capital E. Also, the 37-year-old hopes to be the first transgender contestant to take home the crown. Peppermint seems almost serenely confident in her Meet the Queens interview, but will she be able to stay ahead of her competitors? Although most of them have less experience, that might push them to prove themselves against an established performer like herself.
Strengths: Let's hope Drag Race brings back the celebrity interview challenge because Peppermint would mop the floor with that one. She's likely to be strong in any challenge that involves acting, singing, comedy, songwriting, dancing, or live performance.
Weaknesses: Peppermint herself is stunning, but her style isn't quite as boundary-pushing as a number of her competitors', nor does she seem as cutthroat.
Odds she'll win: 8–1
Odds she'll be Miss Congeniality if she doesn't win: 3–1
What to watch: Her "Telephone" parody with Sherry Vine.
Sasha Velour
This 29-year-old Brooklyn queen defines drag as "the art form of the queer imagination." The only question is whether Drag Race will be expansive enough to contain Sasha's endlessly visionary take on that form.
Strengths: Sasha seems like the kind of queen who will see the big picture in each challenge, which will serve her well. She's a killer lip-syncer, a charismatic speaker, and a drag genius — just think of the avant-garde looks she'll bring to the runway!
Weaknesses: Prepare for a "versatility" critique from Michelle Visage.
Odds she'll win: 8–1
Odds she'll fascinate us with her fascinators: Even
What to watch: Her projection work on this Annie Lennox number.
Shea Couleé
DiDa Ritz, Trixie Mattel, and Kim Chi got close on their respective seasons, but no Chicago queen has yet won the title of America's Next Drag Superstar. Shea Couleé might very well be the one to change that. The 27-year-old, whose drag persona is "equal parts bourgie and banji," is a crafty queen giving everything from Naomi Campbell glamor to DMT-tripping visuals. She can sew, she can dance, and she can act. She can even adapt her makeup to another person's face. Hello, makeover-challenge win!
Strengths: Everything, basically.
Weaknesses: We don't know how she'll do in Snatch Game, I guess?
Odds she'll win: 3–1
Odds she'll have a single available on iTunes this season: 20–1
What to watch: Her take on En Vogue.
Trinity "The Tuck" Taylor
"I came here to win, so that's what I'm gonna do," Trinity says in her Meet the Queens interview. The 31-year-old Orlando performer is an intimidating competitor, having beat out Drag Race favorite Alyssa Edwards to win Entertainer of the Year in 2014. (That's the high-profile title held by Erica Andrews, Roxxxy's late drag mother, and Mokha Montrese, Coco's drag mother.) If she has good comedic timing to back up her styling and performance skills, she just might become America's Next Drag Superstar.
Strengths: Polished looks and high-energy performances
Weaknesses: How will she do behind the Snatch Game panel?
Odds she'll win: 8–1
Odds she'll explain via pantomime how she got her nickname: 15–1
What to watch: Do drag queens do Tove Lo? Apparently!
Valentina
This L.A. entertainer mixes the precision-perfect makeup of an Instagram queen with captivating live performances. She brings life and energy to every moment onstage, something made all the more impressive when you consider that her lip-syncing repertoire is pretty ballad-heavy. However, she stumbled during her Meet the Queens interview with judge Michelle Visage, admitting that she's not great with banter and jokes on the fly. We might be looking at a Snatch Game elimination here.
Strengths: She delivers beauty, face, charisma, and absolutely captivating lip-sync performances.
Weaknesses: Spontaneity and comedic abilities.
Odds she'll win: 12–1
Odds that Bratz will license her likeness for a doll: 8–1
What to watch: This heart-stopping cover of Isabel Pantoja's "Asi Fue."