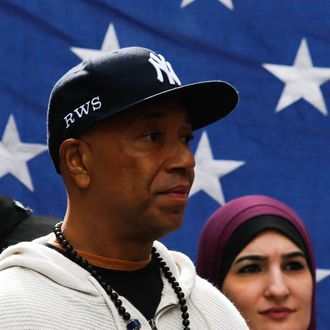 Photo: Eduardo Munoz Alvarez/Getty Images
Russell Simmons, a former friend of President Trump, led thousands in the We are Muslim Too rally in New York City on Sunday. The Times Square protest was organized by Foundation for Ethnic Understanding and the Nusantara Foundation in response to Trump's travel ban, which prohibited refugees and citizens of seven mostly Muslim nations from entering the United States. Huffington Post reports that Simmons told the crowd:
"We are here today to show middle America our beautiful signs and, through our beautiful actions and intention, that they have been misled. We are here unified because of Donald Trump. We want to thank him for bringing us together."
The music mogul explained further his view of the current political climate. "We are focused on things that are not helpful to America," Simmons said. "We're using the Muslim community as a scapegoat. We are being mean to the people who are the victims of terrorism. All of the diversity we see here today will prevail."
Simmons was joined by several other heavy hitters at the rally, including Mayor Bill de Blasio, Chelsea Clinton, Susan Sarandon, and Q-Tip.