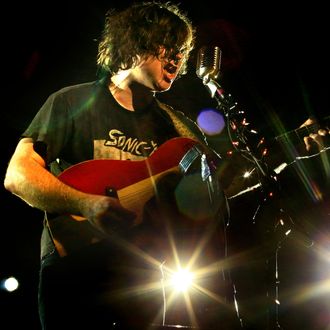 Time does not heal.
Photo: Christopher Polk/Getty Images
Some life experiences you just never recover from and, for Ryan Adams, his is that night over a decade ago when a drunk fan decided to remind him that his name sounds like Bryan Adams. It was 2002 at the Ryman in Nashville and Adams was just trying to put on a career-defining show when, out of nowhere, someone in the crowd repeatedly heckled him with a request to play "Summer of '69." Adams kicked the fan out of the venue and the moment has lived on in concert meltdown infamy. The long-term damage is so great that, 15 years later, Adams has written an entire play-by-play of the day that ruined his life for the New York Times, to heal. "This dream show was turning into a fight to survive my own nerves," he recalls. When security proved useless, Adams took matters into his own hands. He approached the heckler, realized he was just an inebriated dude not much older than himself, and paid for a cab to get him out of there. The crowd cheered Adams's heroics, but the confrontation turned out to be his undoing:

I was now a joke. All of my hard work was lost in a story picked up by The Associated Press. I soon became an attraction for people who wanted to pay money to hurl insults at someone. They wanted to yell that song like it was some magical power that would transform me into a Golem.
Adams can laugh about it now — he finally delivered on the fan's request two years ago and says the original incident made him appreciate Bryan Adams more — but don't think it doesn't still hurt!