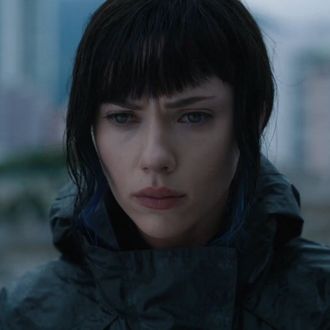 Ghost in the Shell.
Photo: Karen Brill/Paramount Pictures
From the get-go, Scarlett Johansson's casting in Ghost in the Shell, a live-action take on the classic Japanese manga and anime franchise centered around a Major Kusanagi, fueled accusations of whitewashing. Multiple micro-controversies and one name change to "the Major" later, Scarlett Johansson is downplaying the firestorm, telling Marie Claire, "I certainly would never presume to play another race of a person. Diversity is important in Hollywood, and I would never want to feel like I was playing a character that was offensive." Johansson also attempts to pivot the conversation away from an unflattering one about race and toward a laudatory one about gender, explaining that "having a franchise with a female protagonist driving it is such a rare opportunity. Certainly, I feel the enormous pressure of that — the weight of such a big property on my shoulders."
Johansson's redirection is the latest defense that the Ghost in the Shell creative team has launched to stem backlash. First, producer Steven Paul argued that Ghost in the Shell was more of an "international story" than a Japanese one. Director Rupert Sanders then followed, claiming that casting Johansson afforded the film the necessary star power for an otherwise "very international cast." May no one think to email Margaret Cho next.