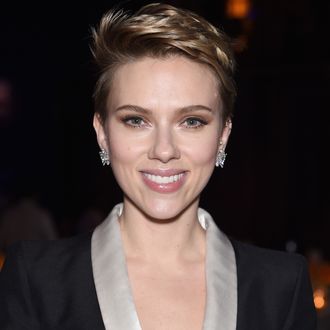 Welcome to the club!
Photo: Dimitrios Kambouris/Getty Images
Saturday Night Live has announced its lineup for the next few weeks, including a bit of history in the making. On March 11, Scarlett Johansson will host SNL for the fifth time. As THR notes, she'll be only the fourth woman to host SNL at least five times — Tina Fey, Drew Barrymore, and Candice Bergen have also done it — and joins the ranks of Tom Hanks, Steve Martin, and semi-permanent SNL host Alec Baldwin in the exclusive Five-Timers Club. To celebrate, Lorde will make her comeback as ScarJo's musical guest, so get ready to bust out those claw-hand movements at home. As was previously announced, Octavia Spencer will make her SNL hosting debut on March 4, joined by Father John Misty.