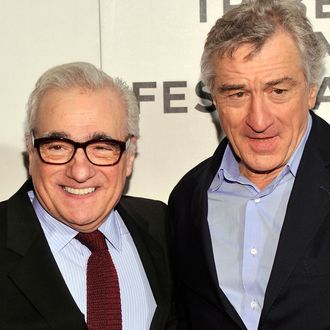 Photo: Stephen Lovekin/Getty Images
Martin Scorsese and Robert De Niro's ninth feature film together, The Irishman, has been scooped by Netflix, reports IndieWire. The $100 million mob movie was previously attached to Paramount Pictures, but with a source close to the deal allegedly claiming that the expensive picture was too "risky" for the traditional company, the streaming service has entered into negotiations.
The movie, which was first announced in 2008, is an adaptation of Charles Brandt's book I Heard You Paint Houses about mob hit man Frank "the Irishman" Sheeran's life. The film will use special effects to make De Niro look like he's 30 again — which, for the record, is the same age the actor was when he first starred in a gangster movie directed by Scorsese (Mean Streets in 1973). Though no release date has been confirmed, it's rumored to hit Netflix's 93 million subscribers' screens, and a limited awards-bid run in movie theaters, in 2019.