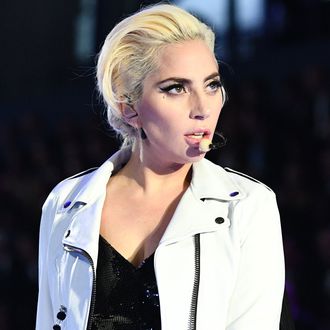 Photo: MARTIN BUREAU/AFP/Getty Images
Lady Gaga went with a minimalist visual for the Joanne album cover, but the "John Wayne" video goes back to her frenetic maximalism. In the music video, released today as an Apple Music exclusive, she revisits her classic antics: goofy props (including high heels that double as guns), over-the-top sets, and funky visuals. Strung out on John Wayne, Gaga's in her beau's passenger seat, on the car's roof, and even hanging out the window, looking to have a little fun. The Jonas Åkerlund–directed video is like something from Gaga's Fame Monster or Born This Way eras. As a wise monster once said: yaaas Gaga, you look so good.
Update February 9: The video is now available on YouTube for your viewing pleasure below.