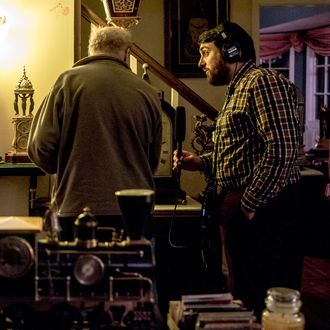 S-Town's Brian Reed.
Photo: Andrea Morales
The crew behind Serial — the hit This American Life–spinoff podcast whose first season lit the internet on fire, whipped up true-crime obsessives, and warranted its own SNL parody skit — issued a big announcement this morning: They have formed a new production company, appropriately called Serial Productions. The announcement also dropped some juicy details about the company's first upcoming project: S-Town, a nonfiction limited series set in a small, rural Alabama town that will be hosted by veteran This American Life producer Brian Reed. The podcast is scheduled to drop sometime in March (no specific date has been provided), with all episodes dropping simultaneously. This marks the highest-profile podcast attempt at a fully serialized narrative that's being designed for binge-listening purposes.
During the Third Coast International Audio Festival last November, Serial senior producer Julie Snyder described the project as an "arty" and "novelistic" seven-part series about a man who despises the Alabama town he's lived in his whole life and decides to do something about it. The press release circulated this morning offered further narrative clues:
Production of S-Town began when a man reached out to This American Life bitterly complaining about his small Alabama town. He wanted a reporter to investigate the son of a wealthy family who had allegedly been bragging that he got away with murder. Brian agreed to look into it. But then someone else ended up dead, and another story began to unfold — about a nasty feud, a hunt for hidden treasure and the mysteries of one man's life.
Murder, Americana, and deep, complex entanglements of local, social histories: After Serial's military-focused second season (which explored the curious case of Sgt. Bowe Bergdahl), S-Town sounds like a return to Serial's core thematic roots. Two more things to note: First, the S-Town editorial team includes Starlee Kine, a This American Life alum whose much-loved Mystery Show was unexpectedly cut short by Gimlet last October; and second, Serial Productions apparently has two more projects in development. It's unclear whether either of those projects include Serial's third season.