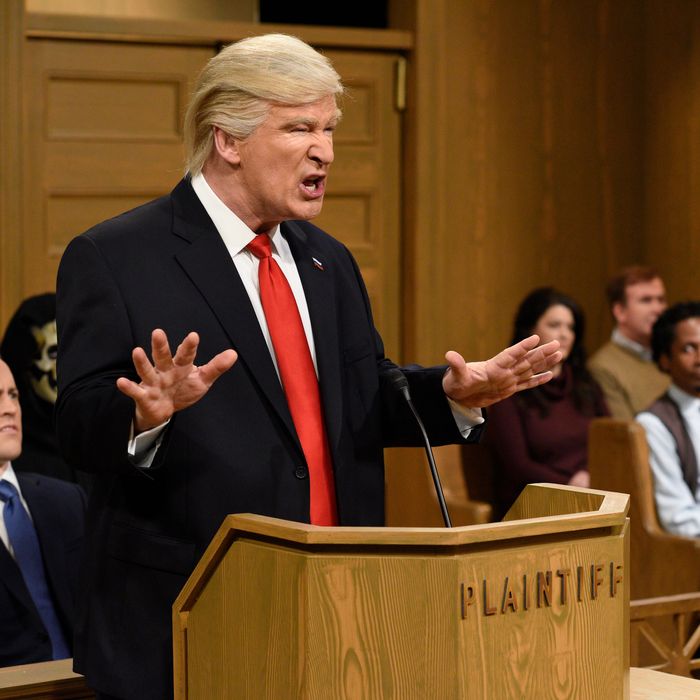 Alec Baldwin as Donald Trump on SNL.
Photo: Will Heath/NBC
The election of an egomaniacal political novice as the leader of the free world has ushered in an era of supersized Saturday Night Live ratings. When final numbers are released Tuesday, this weekend's heavily hyped episode, hosted by Alec Baldwin and featuring the return of Melissa McCarthy as White House Press Secretary Sean Spicer, is expected to break the 10 million viewer mark in overall same-day audience. That would be a bigger same-day audience than the real Trump's last SNL appearance (9.3 million in November 2015) and will likely put the Not Ready for Prime Time Players ahead of every other Peacock prime-time show last week. What's more, among adults under 50, there's a good chance the Baldwin episode will end with a larger same-day demo rating than anything else on TV last week, save The Walking Dead, the Grammys and, possibly, The Big Bang Theory. It's just the latest triumph for SNL, which, since Trump got elected, has been experiencing so much winning it's probably getting tired of winning so much.
While historical comparisons using total-viewer data is a bit tricky given population growth and the advent of time-shifting technology about a decade ago, the audience surge for SNL is impressive from almost any angle. Factoring in the significant DVR viewership the show gets — more than 3 million, on average, watch the show on a delayed basis — SNL this season is drawing around 10.6 million viewers each week, its biggest tune-in at this point in a season since 1995. As noted, because there are nearly 45 million more Americans alive today than back during the Wayne's World era of SNL, it's a bit misleading to say the show hasn't been this popular since the 1990s. But given how far TV ratings have fallen the past few decades, as well as the explosion in late-night competition, the fact that SNL now outdraws most prime-time shows is, in a word, impressive. (Indeed, SNL's 1994–95 average of just over 10 million viewers wouldn't have even landed it in Nielsen's top 30 shows back then).
A more precise measurement of SNL's Trumpian surge is probably its ratings among adults under 50. This stat isn't skewed by population growth (since it represents the percentage of the overall young-adult audience watching), and it's also the rating used most frequently by NBC to sell advertising on the show. Including DVR replays, SNL this season is notching around a 3.5 rating in the demo, up an eye-popping 20 percent versus this point last season. Assuming these numbers hold, the show (as of last week) is on track to have its best performance among young adults since the 2007–08 season, when interest in the Democratic and Republican presidential primaries drove tune-in and boosted SNL to a 4.3 demo rating. While not quite as flashy as saying SNL is having its best season in two decades, it's the sort of performance that's making NBC's ad sales force very, very happy — and no doubt making the man most responsible for the ratings spike … wait for it … very, very sad!