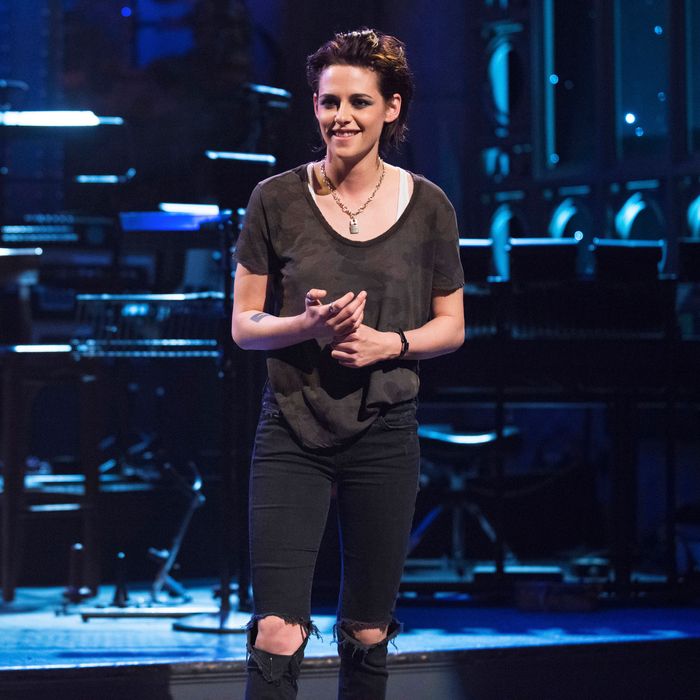 Kristen Stewart.
Photo: Rosalind O'Connor/NBC
With her first Saturday Night Live hosting gig, Kristen Stewart steps up to poke fun at her public person as the laconic, mysterious figure of desire who appears in movies like Adventureland, Snow White and the Huntsman, and, of course, the Twilight series. Last week, she told Jimmy Fallon that she had to "bite the bullet" and just say yes to SNL. But will sketch comedy break her out of that practiced monotone? Let's find out.
Oval Office Cold Open
Without Ivanka and Jared Kushner to keep him calm, Donald Trump (Alec Baldwin) summons Steve Bannon (once again, depicted as death's head in a cowl) to advise him about phone calls to foreign dignitaries. Trump calls ostensible allies in Australia, Mexico, and Germany, even though he hasn't "been briefed or anything," and each exchange ends something like this: "America first, Australia sucks, your reef is failing, prepare to go to war." Trump's impatience, anger, willful ignorance, and egomania are all on display — "Last week, it was Holocaust Remembrance Day," he says, "And as you know, six million people … were at my inauguration" — until he calls Zimbabwe to threaten Robert Mugabe. Trump gets immediately shut down by the old dictator, and then retreats to a child's desk to let "Mr. President" Bannon return to the real business of governance.
Kristen Stewart Monologue
First, Stewart takes a moment to reflect on how much attention Donald Trump played to her 2013 breakup with Twilight co-star Robert Pattinson. Afterward, Kate McKinnon and Aidy Bryant try to pass themselves off as effortlessly cool to get Stewart's respect. McKinnon smokes, Bryant's sitting on a hog, and none of it matters because she already thinks they're cool. It's a simple intro in which Stewart does her best to convince the cast that she is, in fact, ready to play. Case in point, her message to Trump: He'll probably hate her not only for hosting SNL but also because she's "so gay, dude." Aaand then she drops an F-bomb right before commercial.
U.S. Customs Welcome Video
Hopeful U.S. immigrants get the once-over from the Department of Homeland Security in what used to be a procedural introduction for travelers entering airports. While the original video shows a customs rep (Cecily Strong) going over standard protocol, the new, hastily edited version finds a Homeland Security official (Beck Bennett) butting in to discourage Muslims from entering the country. The extreme vetting questionnaire says only, "Are you a Muslim? Yes or no." Also, all visitors will apparently be asked to eat a hot dog in front of their interlocutors. The sketch is certainly relevant, and makes some good points, but the entire package is more angry than it is funny.
Dry Fridays
When the college kids of UConn get caught drinking on campus, they are forced to gather in a dorm for "Dry Fridays." In an effort to curb future benders, the students eat pizza and rap about the ridiculous things they've done while drinking. While some moan about mooning cops and texting exes, Courtney (Stewart) lives life at another level: She's chopped down pine trees naked in the quad, found a dog-tracking chip in her neck, and given herself a "no-hawk" — just a strip of hair removed where her part should be. When she gets to the part about birthing an egg, the kids and counselors are sufficiently fascinated and grossed out. There are nice details here, but Stewart's delivery doesn't take the material or the character very far.
Totino's Super Bowl Commercial
During the big game, the husband and his boys want their Totino's Pizza Rolls, so the wife (Vanessa Bayer) determines to make those Totino's Pizza Rolls. The twist? One of the boys' sexy sisters (Stewart) shows up to awaken heretofore unexpressed sexual desires on the part of the wife. But where are those Totino's Pizza Rolls? They're coming right out, after they're prominently displayed, illustrated in otherwise erotic pencil drawings, and used as a prop in sexy foreplay between the ladies. Does the focus on those darned pizza rolls make this one more an ad than a sketch? Probably, but this is the best money that Totino's has spent since they hired Tim & Eric.
Sean Spicer Press Conference
During a White House briefing, Press Secretary Sean Spicer (Melissa McCarthy) blows his stack while constantly antagonizing members of the media. Though Spicer acknowledges the "rocky start" he's had with news outlets, he means it "in the sense of Rocky the movie, because I'm here to punch you." Then he starts chewing fistfuls of gum and gets to the business of telling the press corps that Trump's announcement of Supreme Court nominee got a 15-minute standing ovation from a room full of ovulating women and men with erections. Every aspect of this sketch — writing, casting, and execution — is truly excellent. McCarthy's petulant, bullying, squeaking Spicer is an unexpected wonder, and all of this bizarre behavior reflects the inexplicable fury and mendacity that has been the Trump administration's hallmark thus far.
Weekend Update
Update starts by looking at Trump's executive orders — "Trump is gut-renovating the country like it's a crackhouse on Flip or Flop" — and his attempts to defend the Muslim ban by saying it's just a ban against people from seven Muslim-majority nations — "That's like saying, 'We're not banning white people, we're just banning people who love La La Land.'" Though it gets muddy at the end, Michael Che's attempt to dissect the term "radical Islam" comes from the right place. Colin Jost also has a nice jab when talking about what the nation has learned since the inauguration, including "which countries are threats, and which have Trump hotels." All this said, Update is a bit all over the place this week. There are lulls, a couple of flubbed lines, and a lackluster monologue from "Big Papi" David Ortiz (Kenan Thompson). Though Thompson's genial presence is always welcome, the Papi schtick is wearing thin. There's only so far a silly accent and mofongo can go.
Celebrity Family Feud: Super Bowl Edition
Since there's just no other way to pack nine impressions into six minutes, SNL returns yet again to Celebrity Feud. Though these sketches always have a fun character or two — in this case, Stewart does an airy Gisele Bündchen, Alex Moffat plays a barely lingual Casey Affleck, and Kate McKinnon does her delightful Biebs — the sketches themselves always end up long and tepid. This Super Bowl edition features dopey Patriot-backing celebs versus dopey Falcon-backing celebs. Of course, Steve Harvey (Thompson) gets some dopey answers to his questions. The best moment arrives at the end, thankfully, when Gisele's inane answer to what she'll bring to a Super Bowl party — "A beautiful spirit of togetherness that makes us all a part of humanity" — is the top answer on the board, thanks to her cheating teammate Bill Belichick (Bobby Moynihan).
Meet Cute
In this filmed piece, Steve (Pete Davidson) meets Claire (Stewart) while he's picking up his morning joe; they make a date, but he fails to get any of her info. While she spends the day prepping to begin a new romance, he's freaking out, poring through phone books and searching Facebook for "Claire brown hair" in hopes of tracking her down. After a long and fruitless trek, he happens upon her through sheer chance … only to have a final impediment keep her just out of reach. It's pleasant, patient storytelling, but the jokes don't stray far from the first note of the sketch and don't pack much of a punch.
Golden Ticket
In this Willy Wonka and the Chocolate Factory spoof, Charlie (Stewart) rushes home with a golden ticket to show his hobbled, bedridden grandparents. When Grandpa Joe (Davidson) miraculously gets up and begins to do his big "I've Got a Golden Ticket" number, Charlie cuts the old man short. The young lad thought his grandparents had polio, had to get a job working for a bookie, and even gave his relatives sponge baths. ("I even washed your balls," he grouses.) It's a smart twist, but there's not much ground to cover, which is perhaps why this five-to-one sketch is little more than cute. The costumers and wigmakers did a great job with everything here, though, and Stewart gets great titters from the crowd when she enters in Charlie garb.
Any show that starts with an F-bomb is bound to be a little rocky. Thankfully, Stewart presence is a genuine delight; both her enthusiasm for the job and her willingness to do silly things are worth noting. The bright lights, of course, are the political sketches. In a Trumpian world of "alternative facts," comedians may worry it's too difficult to satirize the headlines because the headlines feel like satire already. While that's understandable, the writers of SNL haven't had much trouble in recent episodes. The Trump open and the Spicer sketch are the satire that's needed at present: undaunted and bold attempts to point out hypocrisy while still having fun. Let's hope SNL brings back Melissa McCarthy every time they need Sean Spicer.