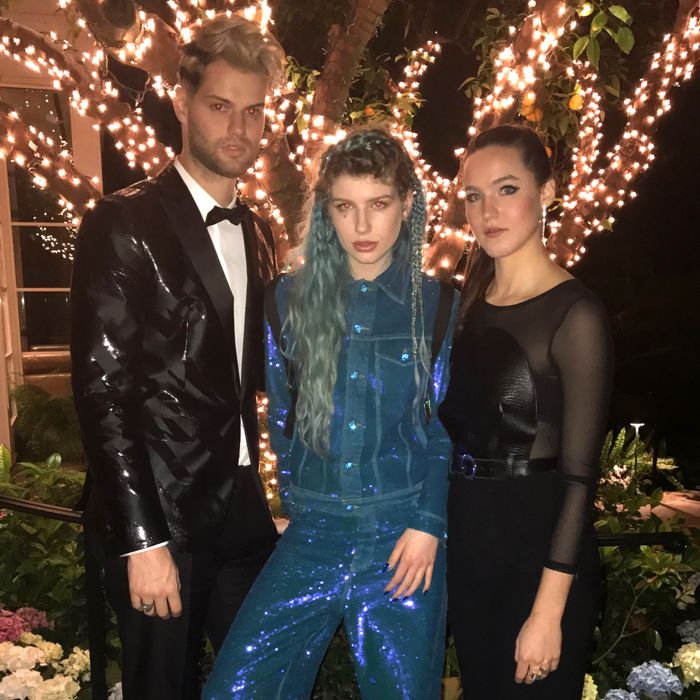 Photo: Courtesy Sofi Tukker
Dance-pop duo Sofi Tukker made their first trip to the Grammy Awards on Sunday as nominees for Best Dance Recording for their song "Drinkee." Since this was the group's first awards show and first red-carpet experience, we asked the band, composed of Sophie Hawley-Weld and Tucker Halpern, to document the evening and give us a firsthand perspective on what it's like to make your inaugural trip to music's biggest night. "Drinkee" may have lost the trophy to "Don't Let Me Down" by the Chainsmokers, but that didn't stop them from enjoying the whirlwind of being Grammy VIPs.
Sitting for the Glam Squad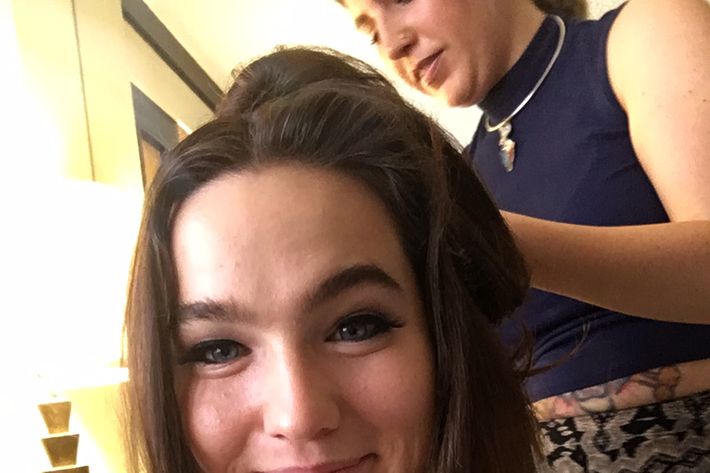 You can't just walk past Adele in your street clothes on a red carpet. But even getting all dolled-up does not prepare one for seeing Beyoncé in real life, which Halpern calls their most starstruck moment. From the way Hawley-Weld recounts the night, it sounds like you could have knocked her over with a feather as soon as she exited the prep chair.
"I have a weird relationship to time and space in general," she explains. "I kind of get in whirlwinds all the time, and I get extremely absorbed in the moment, so I was kind of just on that wave all day, and it was awesome. It was really fun. I kept turning over to Tucker and being like, 'I'm so happy! This is so cool!' And the whole ceremony, it was like a four-hour performance, and I was enraptured the whole time."
Date Night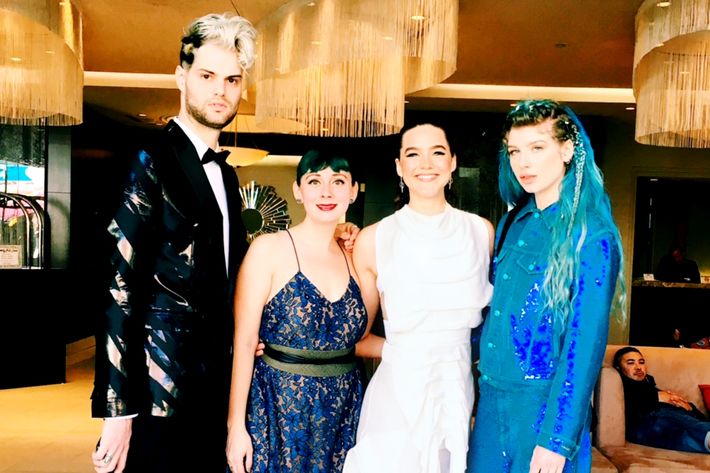 Hawley-Weld and Halpern each got a plus-one, which they used to thank members of their inner circle. One of those was their "day-to-day manager," Justina, who's seen here with the short hair and green bangs. "She is just, like, the best person to have anywhere all the time," says Halpern. "She helps with everything and is sort of our boss man, just telling us what to do, where to go." Hawley-Weld corrects her bandmate about who's in charge by reminding him Justina is a "boss woman."
Pro Tip: Always Bring the Friend Who Will Go Full Mermaid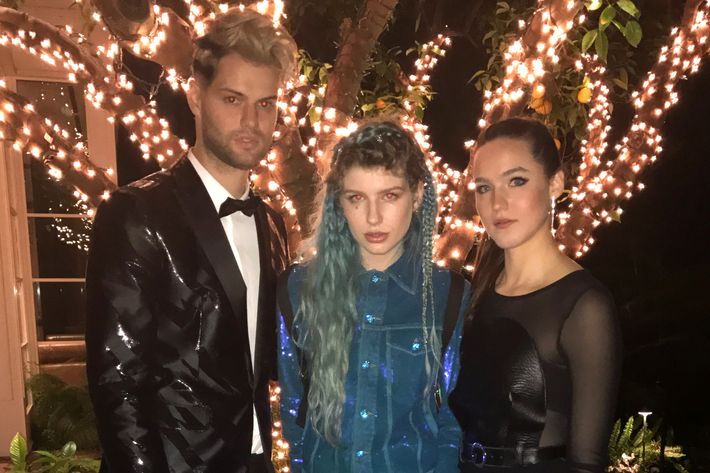 "We also brought our friend Charlie, who has just the best vibes," says Hawley-Weld. Halpern added, "She's an amazing artist, too, and does a lot of our artwork, so we wanted to repay her for that. We wish we could have brought more. We had a lot of team members." Hawley-Weld also points to the benefit of Charlie's fashion sense: "Her outfit broke the ice a lot."
But First, Let Me Take a Selfie
The weird reality of red carpets is that you have to walk a photo line, getting your picture taken over and over again, striking some sort of pose every two feet. In the video above, the duo took some time for themselves on the reddest of carpets. "We weren't really nervous," says Halpern. "I hope we didn't look that awkward, but I don't really know. We haven't seen the pictures yet. Hopefully we were able to do it without looking too bad."
Roving Giant

Halpern, a six-foot-eight former NCAA basketball player, learned firsthand that almost everyone in Hollywood is small. "Most of them are shorter than you think," he says. "I'm really tall, so when I see people on TV and stuff I don't consider them to be smaller. That's just not how you see things. So then I'm towering over them and it's a little awkward."
Step and Repeat
Whether you're a first-time nominee or a lifetime-achievement-award winner, everyone walks the same red carpet. "It felt like we were allowed to be there, like we belonged," says Halpern. "I don't think we knew that many people so I wasn't feeling like The Man. We weren't walking around high-fiving everyone. We were thinking, 'So, who should we talk to?' The Weeknd was sitting next to us at a party and it was like, 'Oh, this is so weird.'"
Adds Hawley-Weld, "I was kind of starstruck the whole time, because there are all these people around us that I know so much about, and know their work so well. I feel like I've never been quite so wide-eyed. It was all so fun."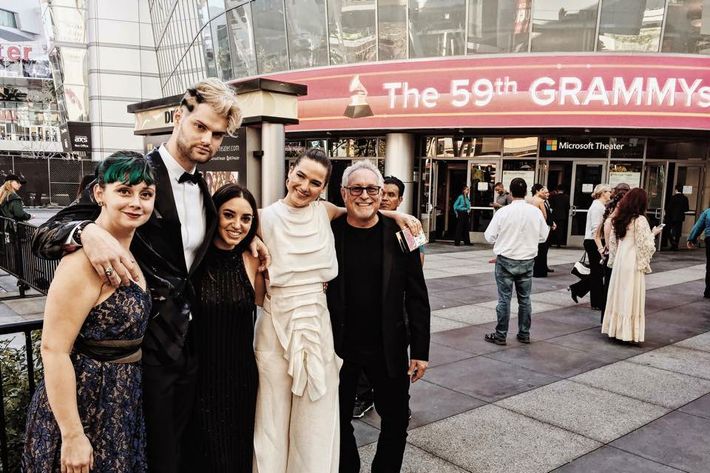 The band looking fresh with some of their team before the long night, which, for Hawley-Weld, turned into a long morning. "I went to bed at 6 a.m.," she says. "I had to, like, stretch and decompress before I fell asleep."
Showtime
When it came to the event itself, Hawley-Weld describes it as "like the best concert ever," and Halpern shouts-out Daft Punk, A Tribe Called Quest, and — to his surprise — Katy Perry as a few of the highlights. The big takeaway was seeing the skill level of some of music's biggest acts up close.
"I was really, really inspired during the show," says Hawley-Weld. "There were several people whose professionalism and commitment blew me away and made me feel really excited." Halpern echoes the sentiment: "We talked about it a lot, the professionalism and how good and prepared everyone was for their performances and for everything they had to do. It was really impressive. We aspire to be on that level one day."
Mostly, Just Have Fun
Basically, the Grammys was just a really great day for the pair, even if — or maybe directly because — they didn't win. "We were so wide-eyed and feeling just goofy and happy the whole day," says Hawley-Weld. Halpern adds, "I don't know which part was the most fun, because the red carpet was really fun, and we've never got to do that sort of thing. So that was really exciting. And then our awards show, the one that's not televised, was fun because we were actually kind of nervous, and right before it was happening we were like, 'Oh my God. We might have to go up there and speak!' And then luckily we didn't." Hawley-Weld affirms her partner's gratefulness for getting to stay seated, "I think we felt relieved by that."