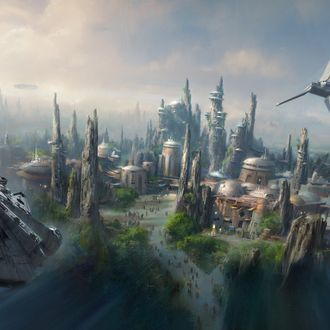 'Star Wars Land' concept art
Photo: Handout/Disney Enterprises, Inc./Lucasfilm Ltd.
Though 2019 will mark the end of the Skywalker saga with Star Wars Episode IX, it will also mark the beginning of fans visiting its universe in theme-park form. According to The Hollywood Reporter, "Star Wars Land" is set to open in Disney World in Florida and Disneyland Anaheim in coordination with the much-anticipated sequel. Disney had previously announced its plans to build the park — its biggest single-theme expansion ever — in 2015, before the release of Star Wars: Episode VII — The Force Awakens. At the time, Vulture learned that there were plans to create a Millennium Falcon ride, which seems like a disrespectful way to treat a ship that has saved the rebellion umpteen times, but regardless will probably make you want to start planning your family vacation for two years from now.