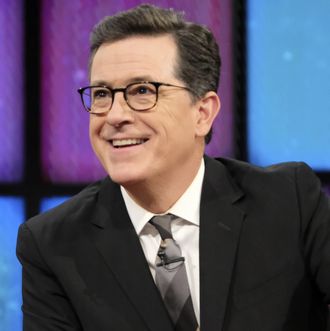 Photo: Timothy Kuratek/CBS
Stephen Colbert, citizen of the United States, hasn't been shy about expressing his concerns regarding President Donald Trump. But Stephen Colbert, CBS late-night host? You can bet that Colbert is quite a fan of POTUS, after seeing the ratings for last week. Per Nielsen, Colbert's Late Show — airing its first full week of original episodes since Trump's inauguration — finished No. 1 in total viewers for the five-day period ending February 3, beating long-time late-night leader The Tonight Show with Jimmy Fallon. The victory is something of a momentum-shifter in the late-night race: It's the first time Colbert has beaten Fallon head-to-head with original episodes since Colbert's first week on CBS, back in September 2015. While Fallon has gotten drubbed in certain quarters for his relatively uncritical treatment of candidate Trump (and generally doesn't focus much on political humor), Colbert has been pretty relentless in hammering the new president, particularly since last November's election. The mini-surge in ratings indicates at least one segment of the audience is rewarding Colbert for his focus, though it's worth noting that Fallon has hardly collapsed.
For one thing, broadcast advertisers are still mostly interested in younger viewers, and among adults under 50 — the Electoral College of network TV — Fallon remains firmly on top. Last week, for example, Tonight averaged a 0.7 in the key demo, while Late Show and ABC's Jimmy Kimmel Live tied with a 0.5 (though Colbert was slightly ahead of Kimmel in unrounded averages). And even among overall viewers, the Colbert-Fallon race was whisker tight, with just 12,000 viewers separating the two shows. NBC also notes that while Colbert won Monday and Tuesday last week, Fallon regained the lead for the last three nights of the week. It's possible some viewers simply wanted to check out Colbert's take on the new administration, and then reverted to their usual habits. But it's just as likely progressive and anti-Trump voters are looking for outlets that give voice to their frustration and anger over the new regime, and Colbert is getting a legit Trump bump. As it is, we've already seen big gains for other political shows, including NBC's Saturday Night Live (which will end up last week's No. 4 entertainment program among adults under 50, counting both late-night and prime time shows) and TBS's Full Frontal with Samantha Bee. Whatever happens over the next few months, for now at least, the Colbert-Fallon ratings race is once again interesting.