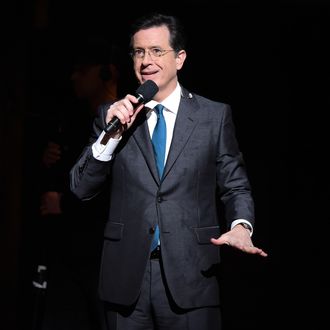 Stephen Colbert.
Photo: AFP/AFP/Getty Images
While it's perhaps not awesome for America as a whole, Donald Trump's administration has increasingly energized America's late-night hosts. Stephen Colbert's Late Show, which got off to a slow and sometimes shaky start, has been boosted lately by what Vulture's Josef Adalian called the "Trump Bump" (an interesting echo of Colbert's own Comedy Central–era "Colbert Bump"). Perhaps fueled by that bump, Colbert today announced via Twitter that his show would go live following Trump's address to Congress on February 28:
It's not the first time Colbert has done a live show; most memorably, he had an emotional and interesting live show the night of the presidential election. (It was, however, on Showtime and not CBS.) In fact, it's the 15th live show for Colbert since he took over for David Letterman two years ago. Given that he's set to host the Emmys this fall, it's likely we'll see a few more live Late Shows in the months ahead. Practice does make perfect, after all, just like Trump does make late-night TV more interesting.